Europe's Tesla will be first with full performance
British-built model gets full fat transmission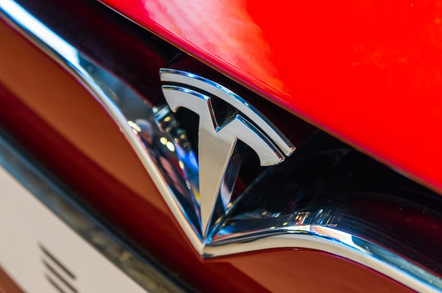 Tesla Motors, darling of the electric vehicle industry, has confirmed that it will produce a European "special edition" of the famous Roadster sports car. European buyers will be the first to get Roadsters with full-performance transmissions - early US cars now being delivered have "intermediate" lower-performance machinery which will need to be replaced.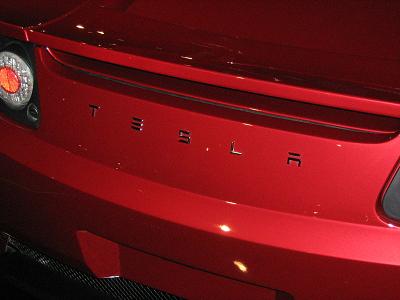 The car in front is also a Roadster. A European one.
Current Roadsters for the US market use a Lotus Elise body assembled in the UK, but have their motors and batteries installed in the US. Tesla has delivered 16 of these to date, and has an order book of over 1,000. The company also plans to build 250 European Roadsters, which will be fully completed at Lotus, and will set up sales and support operations in the UK and Germany.
In most respects the Roadster doesn't offer performance of the sort one would expect from a petrol supercar with a similar pricetag. Top speed is unremarkable, and its battery will run flat - requiring hours of stationary charging - after as little as 165 miles. But a full-spec Roadster does offer neck-snapping acceleration, 0-60 in four seconds - true supercar poke.
Drivers of the current US Roadster aren't getting this, however. The intermediate transmissions in their vehicles - which will be replaced at some future point by Tesla at no extra charge - can only do 0-60 in six seconds, more in the hot-hatchback league.
Esben Pedersen of Tesla Europe told the Reg yesterday: "Only the European version will be fully done at Lotus... The European version will have the new motor and transmission from the start. The first US versions will have it fitted later."
Elon Musk, the renowned PayPal kingpin, space-rocket entrepreneur and tech visionary, is the primary financial backer of Tesla Motors. He apparently owns Roadster Number 1. It appears, however, that certain wealthy Europeans may soon be driving a superior model. ®
Update
It seems that some of you lovely people, not having followed our previous Tesla Roadster coverage, want to know more about speeds, prices, charging up, comparisons to petrol cars etc. Be our guest.
Sponsored: Minds Mastering Machines - Call for papers now open