Nokia 6210 Navigator phone
Modest GPS-enabled mobile from Nokia
Still, the autofocus camera works well enough, putting in a decent shooting performance. It can capture acceptably detailed images and is pretty good too at close-up range. Colour rendition was generally good, though the auto metering system sometimes produced slightly washed out tones in certain lighting conditions. The performance though was overall fine for a cameraphone at this level, and there's room for adjusting settings pre-shooting plus basic picture editing software inside.
In addition, Nokia provides a Share Online application to help upload images directly to image and video sharing sites, including Flickr and Nokia's own Ovi portal. Video footage can be uploaded too: the 6210 shoots at maximum 640 x 480 quality, but at 15f/s, the results aren't particularly impressive.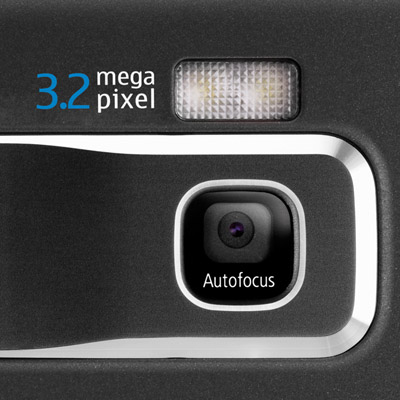 The autofocus works puts in in a decent performance
There are typical Nokia S60 music and video applications on board. The RealPlayer application can play full-screen downloaded clips or PC-transferred video smoothly, while the music player is set up for no-hassle handling. Tracks are arranged with the usual sort of categories and playlist options, and the navpad provides player controls.
The earphones boxed with the 6210 Navigator produce are underwhelming, however. You can improve audio quality considerably by adding higher-quality headphones - but you'll first need to source your own 2.5-to-3.5mm jack adaptor. It would've been much better if Nokia had just fitted a standard 3.5mm socket, as it does with others in the range.
Getting music onto the phone follows the usual procedure: you can sync with Windows Media Player or Nokia Media Manager. Alternatively, you can drag and drop tracks with the 6210 in mass storage mode, or Bluetooth tracks across. Some 120MB of user storage is available on the phone, and you can use some spare capacity of the 1GB MicroSD card supplied. Our sample had around 750MB free.
Nokia Music Store is supported on this phone, so you can buy and download DRM-protected tracks over HSDPA, or tunes and videos from your mobile operator's music service. You can also download podcasts over the air, though be wary that data charges will apply if you haven't got an inclusive deal. A Nokia Podcasting application can be used to find and subscribe to podcasts. The FM radio offers another, no-cost way of supplementing your audio entertainment.
Sponsored: Minds Mastering Machines - Call for papers now open