Nokia 6210 Navigator phone
Modest GPS-enabled mobile from Nokia
The slide out keypad is well spaced and springy without being creaky, while the slightly concave control area under the display helps separate the buttons and raise the large, ridged D-Pad and menu button slightly proud of the panel. Under this navigation key is a blue compass-shaped Navigator button, for activating the Nokia Maps system.
Screen legibility is important if you're looking at maps, and the display used here is a decent-sized 2.4in screen, a bright and clear 320 x 240, 16m-colour affair. It's not as big as most touchscreen phones, or a standalone in-car satnav, but it does the job.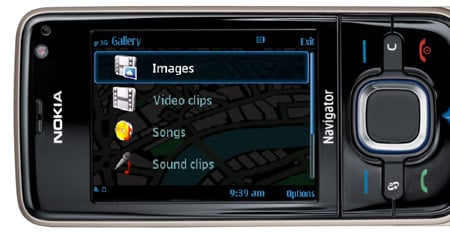 An accelerometer provides motion-sensing orientation of the display
Inside the phone, an accelerometer provides motion-sensing auto-orientation of the display depending how it's being held. It works during menu operation and a number of other features, including the browser, RealPlayer video player, image gallery, music player, and one of the installed games.
The 6210 Navigator's menu system is a typical S60 set up, with half a dozen user-definable shortcut options lined up as icons on the top of the standby screen, plus soft-menu shortcuts. The main menu and sub-menus are busy, with plenty of applications and options to play with, but the phone responds quickly to button tapping, even when several applications are open at the same time.
The most direct route to the Nokia Maps application is via the blue Navigator key. Tap the star-shaped button, and the headline A-GPS system kicks in. Nokia Maps starts up, and usually within 30 seconds we'd found our precise location pinpointed on the map. It can take longer – Nokia reckons between a few seconds and several minutes – depending on where you are, but in our tests it was a pretty consistent and trouble-free process, much as it was with the N82 and 6220 Classic.
As well as the A-GPS technology, there's a compass mode that you can calibrate with some flicking of the wrist. Designed to help pedestrians, this orientates the maps automatically to match the direction you're looking in.
Sponsored: Minds Mastering Machines - Call for papers now open