Geek tech takes hoovering to new heights
Extreme ironing anyone?
If the Missus always nags you to help her clean, she'll faint when you offer to vacuum the whole house. Thankfully, technology's found a way to liven up this chore – but you'll need a Wii Balance Board.
Can't see the video? Download Flash Player from Adobe.com
Wii and vacuuming nerd "Ron" Tajima of Japan has developed a way to control the iRobot Roomba robotic vaccum cleaner through physical movements made while standing on Wii Fit's Balance Board. Move left on the board and the Roomba moves left, move right on the board, well, you get the idea.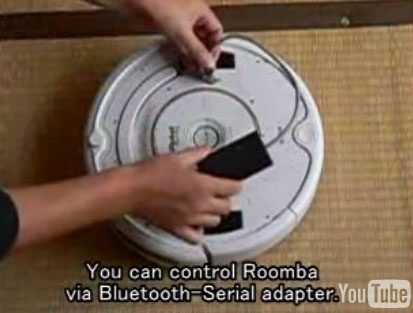 Bluetooth is the key to Roomba surfin'
In his You Tube video, Ron describes how he added a Bluetooth serial adaptor to the robotic sucker, before connecting the Wii's Balance Board up to his laptop over Bluetooth. Presumably some unmentioned software hacking was required along the way too, because Ron also thanks two hacking websites at the end of his video.
Nonetheless, the hack appears to allow Ron to move his Roomba in whatever direction he wants, simply by bending and curving his body on the Balance Board.
It's worth noting that Register Hardware's recent iRobot Roomba review only got 30 per cent, so whilst controlling the sucker with your Balance Board might kill, say, five minutes of boredom – it still won't get your floor clean.
Sponsored: Minds Mastering Machines - Call for papers now open