MSI touts 'first' mobo for Intel Core i7
Full three-channel memory supported
Want a peek at Intel's 'Nehalem'-oriented X58 chipset? Well here it is, courtesy of mobo maker MSI, which today announced its first board for Core i7 processors.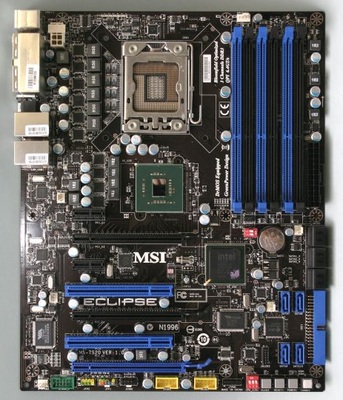 MSI's Eclipse: awaiting Core i7
MSI's X58 Eclipse is equipped with the Socket B - LGA-1366 - interconnect to support the likes of 'Bloofield', Intel's upcoming desktop Nehalem. The board uses QuickPath instead of ye olde frontside bus.
Eclipse will provides three memory channels, allowing it to take up to six 1333MHz DDR 3 DIMMs - the first of its kind to do so, MSI claimed. The board will take up to 24GB of RAM.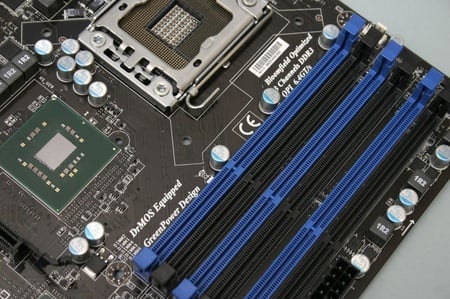 How many processor pins? How much memory?
COMMENTS
Big numbers!
1x 6-core 4GHz Nehalem, 3x 48-core 2.5GHz Larrabee cards. 150 cores in a single box collectively executing a peak of 816 billion x86 instructions each second.
I sure hope the supercomputing clusters of these things decide they like us puny humans...
Intel core i7 mobo
When will I be able to get one? Gimme, gimme, gimme!