Hardware hackers get second Bugs bite
Modular Linux goodies return
Hardware hackers can soon start building their own Linux gadgets with a fresh batch of Lego-like building blocks from Bug Labs.
Bug Labs told The Reg it's targeting "late September/early October" for a second release of BUGmodules, version 1.3. Bug Labs had said earlier this month it hoped for release this week, but also warned at the time things could slip.
Version 1.3 will see completely new modules offering GSM, WiFi and ZigBee wireless - along with an upgrade to the existing BUGbase unit that these and existing modules plug into. The BUGbase is also adopting SD flash memory to provide capacity at a low price.
Blogged about and expected is a new build system - Poky replacing Linux Target Image Builder (LTIB). Poky is based on Open Embedded, which offers a large package library for those building systems on Bug Labs. The Bug Labs team had tested the JamVM virtual machine as part of a move off phoneME mobile stack, but is sticking with PhoneME for the moment.
During a recent interview, Bug Labs member Ken Gilmer told us the plan is to supply a larger number of devices than it did during this spring's first release, as these had quickly sold out. Bug Labs is not saying how many units it sold then or how many it plans this time.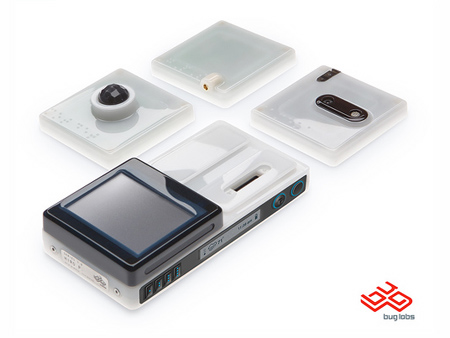 Gone, baby, gone: the first generation of Bugs
Bug Labs launched its initial modules with a view to letting people build their own hardware with a mix-and-match architecture. Some have seen this as paving the way for DIY consumer gadgets, as the family included a monitor, digital camera, GPS receiver and motion detector.
While the hardware is fairly basic - and a world away from a finished consumer product - Gilmer said they have encouraged experimentation.
Gilmer claimed strong interest among those in academia and vertical sectors, and people using Java and the modular OSGi architecture.
The new batch is designed to reach a broad number of people including those working in web services and kernel development. "We are trying to embrace a lot of people at the same time," Gilmer said. "In the Java world, people get it. Most of the interest is at the Linux layer".®