Advent 4211 mini notebook
Dixons tempts with cut-price Wind
The 4211's fan runs frequently, but since we found it to be very quiet we didn't mind, and it kept the machine barely warm to the touch.
Another advantage: the 4211 comes in sober black and metallic-grey colour scheme rather than the more bright kid-friendly colours sported by the Wind. Why did so many SCC makers settle on shiny white as the standard? Ugh...
Beyond that, the 4211 ticks all the correct SCC connectivity boxes: VGA, 10/100Mb/s Ethernet, audio ports, 802.11b/g Wi-Fi and a trio of USB 2.0 ports. Unlike many of its rivals it has Bluetooth on board, if you need it. The webcam is a 1.3-megapixel job.
Downsides? The 4211's AC adaptor is a little on the large side and since the battery life isn't out of this world, this is a piece of hardware you are going to have to carry around with you. The 4211 itself is the wrong side of a kilo, though we found it no less portable for that.
There's no easy way into the 4211 beyond taking the back plate off, a process that involves removing nine screws and unclipping one half of the casing from the other.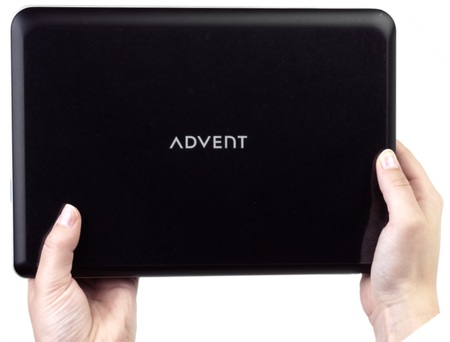 Sober styling
It's the same price as Acer's version of the One that comes with a 120GB HDD and Windows XP but only has 512MB of memory. If you want a 1GB AA1, it'll cost you around £300. Given an SCC should be used as a secondary machine, not your main laptop, we'd rather have the memory than the extra hard drive capacity, so we'd chose the 4211 over the HDD-equipped AA1 any day.
That's if you must have Windows - if you're happy with Linux, go for the AA1, it's cheaper still, especially if you storage capacity is not an issue for you. It's also physically smaller
We haven't had a chance to have a play with the Eee PC 1000 series yet, so we can't comment on how well the 4211 stands alongside it. But since the comparably specced 1000H costs £70 more than the 4211, we'd almost certainly forego the latter's 802.11n Wi-Fi - the 4211 has 802.11g, which is usually sufficient. We reckon you'll soon be able to buy an extended battery for less than that.
Verdict
If you like your Small, Cheap Computers to be not too small, the Advent 4211, with its 10.1in display, will appeal. So will its price, which puts it well ahead of the similarly sized competition. But watch out for that touchpad, OK?
Sponsored: Minds Mastering Machines - Call for papers now open

Advent 4211 mini notebook
This rating reflects the version with the Synaptics touchpad. We'd give it a lot less if it had the Sentelic pad.