Advent 4211 mini notebook
Dixons tempts with cut-price Wind
One of the other things we like about the AA1 is its secondary SD card slot, used specifically to extend the on-board solid-state storage. With an 80GB hard drive on board, you don't need that with the 4211, though it to has a primary SDHC slot for file exchange. That said, we don't like the extent to which an inserted card still pokes out.
Back to the hard drive, and while it's not entirely in the true SCC spirit, it does bring an advantage beyond sheer capacity: it's faster than most of the SSDs fitted into low-cost laptops today. Our PCMark05 results show that graphically, but we found the 4211 to be generally more responsive than SSD-based SCCs we've used.
PCMark05 Results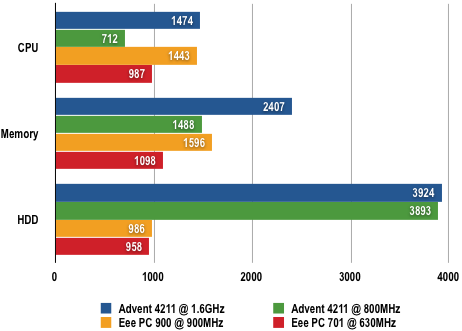 Longer bars are better
Installing apps is much quicker and, with Windows at least, there's no need to pare it back or to switch off Virtual Memory's page file, either for space reasons or to reduce unwanted writes to your SSD. An HDD also gives you room to hibernate the machine for fast restarts and reduced power loss when you're not using the machine.
Oh, and there's room for a back-up partition too, which Advent's put in place if you need to nuke and pave your system.
Yes, an HDD is more susceptible to drops than SSDs, but it's nice not to have to worry about having enough room for apps as you do on 4GB and even 8GB systems. Though, warranted, that's far less of a worry with Linux.
Sponsored: Minds Mastering Machines - Call for papers now open