PSP-3000's LCD is 'berry' good
Image highlights screen's clarity advantages
When Sony announced the PlayStation Portable PSP-3000 yesterday, it didn't show the new model's "advanced" LCD in action. Thankfully, the web has come to the rescue.
Sony claimed the 4.3in, 480 x 272, 16:9 ratio LCD screen on the PSP-3000, which supersedes the PSP-2000, allows gamers to see brighter colours and a better-defined on-screen image in natural light.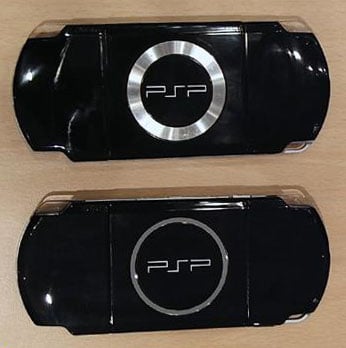 The PSP-3000's UMD draw (bottom) has been restyled
The fruits of Sony's labour are clear in these pictures from website Famitsu. The strawberries on the PSP-3000's screen are much sharper and clearer than those on the PSP-2000's screen.
Glare from surrounding lights is also greatly reduced by the PSP-3000's screen.
Pictures of the PSP-3000's UMD bay have also emerged, showing that the historically thick silver ring around the "PSP" text has been reduced to a thinner silver ring.
COMMENTS
I have the original
I'll admit ive had a PSP since they came out... and its been sat in a draw for ages... but luckily because of this it had old firmware... which means its easily hacked... and now i actually use the damn thing!!! NES games for the win :)
wonder if the new one is hackable?
Wait
You've actually seen someone with a PSP ?
great
... I shall be able to see better the game that the guy sitting next to me on the tube is playing.