Intel talks up CPU+GPU system chippery
'Ibex Peak' unpicked
IDF Intel's next major move in system intregration will be to bring its I/O technology and remaining northbridge functionality into a single chip, 'Ibex Peak', it revealed at its Developer Forum this week.
Ibex Peak will target 2009's second-strand 'Nehalem' processor releases, 'Lynnfield', 'Clarksfield', 'Havendale' and 'Auburndale'. It'll come in both desktop and mobile forms, so we might at last see and end to the year-long lag between mobile IGPs and desktop integrated graphics.
The first-gen Nehalems will connect to a chip called 'Tylersburg', now launched as the X58 chipset, which bridges Nehalem's QuickPath bus and Intel's old ICH-10 southbridge.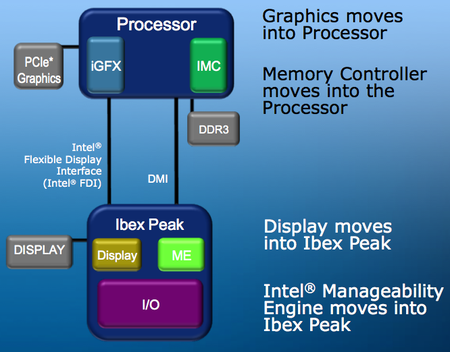 Intel's Ibex Peak
Ibex Peak will do away with the ICH series, bringing its I/O functionality - USB, PCI, Ethernet, etc - and the X58's display control technology into a single chip. It'll also handle all the management technology Intel has added to allow remote access and manipulation of systems by IT managers.
The new chip is designed for next year's CPUs that integrate a graphics core, such as Havendale for desktops and Auburndale for notebooks. Both will connect to Ibex Peak over what Intel calls a DMI (Direct Media Interface) and its Flexible Display Interface (FDI), which routes GPU-specific data to Ibex Peak's display controllers.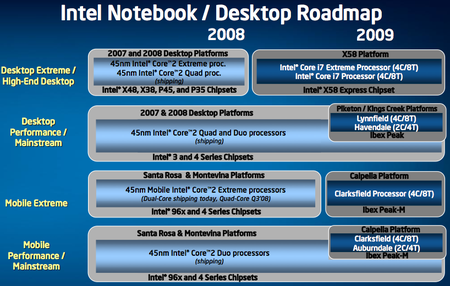 Havendale and Auburndale also have on-board PCI Express 2.0 controllers, allowing them to support an x16 graphics card, which will have its own display controller. However, it seems likely that the two CPUs - especially in notebooks - will support on-the-fly switching to the IGP to conserve power.
As we've reported before, Lynnfield and Clarksfield - again, for desktops and notebooks, respectively - lack integrated GPUs, but can support two graphics cards. Thanks to Intel's recent deal with Nvidia, they'll almost certainly operate in SLI mode as well as CrossFire.
Both Lynnfield and Havendale will introduce a new, 1160-pin chip interconnect, and Intel indicated the mobiles will use it too.
Then, in H2 2009, Intel will introduce 32nm die-shrink versions of these processors, an architecture it calls 'Westmere'.
AMD's Fusion processor, which likewise integrates multiple cores, specialist chippery and, potentially, GPUs all on the same processor die, is also due to debut in 2009. Earlier this year, AMD said the first Fusion processors would be mobile chips.
COMMENTS
Nice to have some pictures in this article!
I remember trying to read another roadmap article just a couple days ago - it is nice to have the images in this one!
Low power?
Lets hope they can get their 2.5W processors teamed up with Sub 20W chipsets. The Atom was a big disappointment in this area.
Dust in the eyes
Integrating everything on one chip is the future but as always Intel makes it the lamest way. PCIe graphics ?!!?!?!! right next to the cpu on one chip ?!?!?! What's wrong with these ppl. Instead of cutting off those pesky useless overhead-only pcie controllers and implement way more efficient on chip communication between both. They simply stuck'em on one chip. One might argue that this will preserve backwards software compatibility, but it's exactly this retarded kind of thinking that got us into the current state of our world where one can spend 1000$ on a multi billion transistor cpu that boots in 16-bit mode with 64k crappy memory segments. But on the other hand a more reasonably thinking man would think that the real reason behind this so called "integration" is not technological revollution but a mere attempt to engage the user to the manufacturer. As amd are also trying.
But hey what do you expect when the product is designed not by engineer-visioners but by greedy economist leeches.