Nike+ iPhone app uncovered
Exercise in style
Nike looks set to capitalise on its partnership with Apple by launching a workout application for the iPhone - if leaked images are to be believed.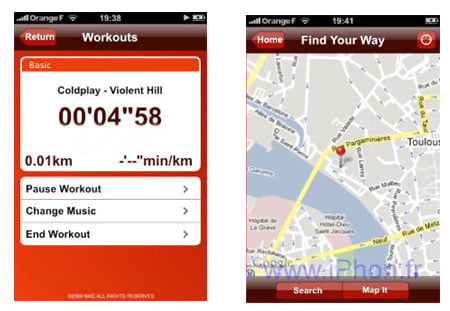 The Nike+ iPhone app
Screengrabs courtesy iPhon.fr
Pictures have appeared online that appear to show an iPhone application called Nike+, which plots a runner's route using Google Maps.
It also displays all manner of exercise data, such as number of workouts, distance run and calories burnt. Of course, details about the currently playing song, including the artist's name, are highlighted too.
It sounds a lot like the Tracker app that Sony Ericsson is bundling with its latest Walkman phone, the W760i - reviewed here.
The pictures were dug up by French website iPhon.fr, but the report hasn't named the source of the images. So, for now at least, you'll have to sit tight until an official announcement is made.
COMMENTS
Violent Hill
I'm inclined to agree with the above... hardly a difficult mock-up to make and a major typo
I hope they do make such an app though, it's the one thing that's always irritated me about the current Nike+ with my Nano.
Violent hill?
I reckon this is a fake, from what I believe the Coldplay song is named "Violet Hill", not "Violent Hill". Seems to me that Nike would have the correct title for the song, and some Frenchman has knocked this together in Photoshop, and miss-spelt the name!