Alienware Area-51 m15x gaming laptop
Out of this world - or the laptop that fell to Earth
PCMark05 Results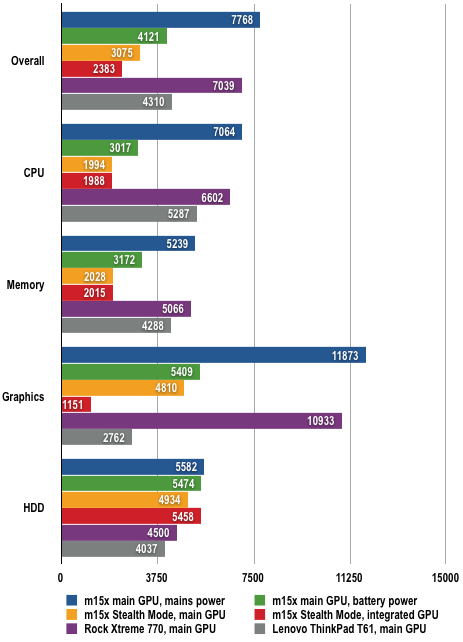 Longer bars are better
By toggling the fourth button, Binary GFX, and restarting the Alienware, we could switch from the GeForce Go 8800M graphics to the integrated Intel GPU built into the laptop's 965GM chipset. Combined with Stealth mode this boosted battery life beyond two hours of continuous use. The problem, of course, is that performance was greatly reduced yet you would still have to lug a 3.6kg laptop from pillar to post.
The alternative is to step up from the 6-cell battery to a 9-cell for £95 and maybe swap out the DVD writer for a 6-cell SmartBay battery for another £80. Or simply choose only to play games when you're connected to the mains.
Verdict
You pay a steep price for the Alienware m15x with all the bells and whistles and in return you get a colossal amount of gaming power with graphics that would shame many a desktop PC.

Alienware Area-51 m15x gaming laptop
If money is no object, then your gaming pleasure will know no bounds
Price:
From £1039 / $1499. As reviewed: £2538 / $3774 RRP