Japanese photographers offered recyclable camera
Snap, bin, reuse
A Japanese electronics store has begun selling a digital camera that will definitely be recycled - because otherwise you won't get a copy of your photos.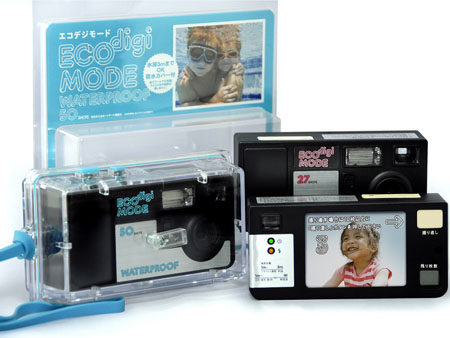 Eco Digi Mode forces photographers to recycle
The Eco Digi Mode camera doesn't accept Micro SD cards or USB cables. This prevents users from accessing the images and forces them to return the camera to the store, where they're provided with a copy of all their pictures on a CD. The transfer is included in the camera's price.
The store then handles the entire breakdown and recycling process of the camera, with some parts – such as the 2.4in LCD display – used to make mobile phone screens. Though we suspect many will be wiped and re-sold first.
Unfortunately, the camera's only available in two forms, one that can store 27 pics and another that can take 50 shots.
However, the three-megapixel snapper only measures 120 x 71 x 53mm, and users can also buy a waterproof case for it.
The Eco Digi Mode camera is available now from Palette Plaza stores in Japan, priced at roughly ¥1983 ($18/€12/£9). A UK price hasn't been snapped yet.
COMMENTS
Everything old is new again
I not surprised that someone came up with this new idea. It's like that idea from those Kodak people for a film camera that you use once, send into for processing, and you get prints back (or even a CD now). In the mean time, the camera is reloaded and resold.
@David Gonsell -- if the idea is such a bad one, why are there so many of the single use film cameras being made both by Kodak and Fuji Film. While they may not be great for profession quality photos (IMHO any with digital in it isnt -- I'll just use my large format camera if you please), most people couldn't tell the difference. The single use cameras also work great for things like capturing candid photos at wedding receptions. Just put a camera on each table, let people loose, and collect them before they leave.
Huh?!
What a waste of resources. Recycling costs more than downloading. This kind of thing was first proposed years ago by companies not willing to adjust to the fact that the single-use camera concept was dead, and mercifully it fell flat. The only people who would touch this are morons like those who believe they are saving the environment by buying a Prius.
And how is this remotely green?
So one person takes 27 or 50 photos, then the camera goes back to the store, gets stripped down for parts, and they make a new one.
There comes a certain number of photos-per-camera where even chucking it into landfill is preferable to recycling it after just 27 or 50 shots; and if the stores went so far as to offer trade-in deals on used cameras, then collection rates for recycling could be improved.