Acer Aspire One A110
The Eee-beater to beat
A fifth desktop page covers the basic settings, including a Live Update feature which, judging from the number of downloads that came down the 'pike during our time with the AA1, means that Acer is committed to keeping the device supported with new patches and, hopefully, drivers.
Other bundled applications include Firefox 2, OpenOffice 2.3 and a bespoke IM client that proved hopeless for the first ten days of our test – it simply wouldn't log into our MSN account. The webcam initially had a mind of its own, but a downloaded patch brought it to heel and it now supports full and reliable video and sound communication with MSN, Yahoo, GoogleTalk and AIM. It even delivers MSN messages sent to you when off line, something we wish our usual IM client, Pidgin, did.
The bundled Media playback is MPlayer so a quick download of VLC will be in order as it does more – it supports DivX, for starters - and does it better.
The basic three-cell 2200mAh battery is frankly pathetic. In day-to-day use, the best we got was between two and two-and-a-half hours of usage, depending on the draw from the Wi-Fi radio. Playing a 576 x 240, 25f/s .AVI video at full screen with the volume set to 50 per cent, the AA1 ran for a far-from-spectacular 106 minutes - all of The Incredibles but for the end credits.
Battery Test Results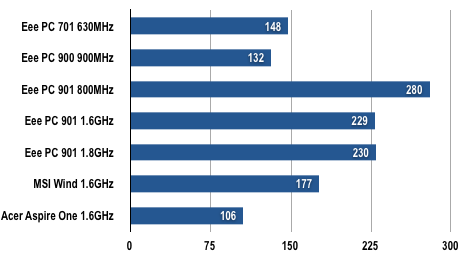 Time in minutes
Longer bars are better
Sponsored: Minds Mastering Machines - Call for papers now open