Acer Aspire One A110
The Eee-beater to beat
There's no question, we'd have rated the AA1 more highly, matching the MSI Wind, if it hadn't been for the battery life.
Of course, the optional six-cell battery will effectively double that, but add over 300g to the AA1's weight. It will probably also set you back a substantial percentage of the basic machine's initial purchase price.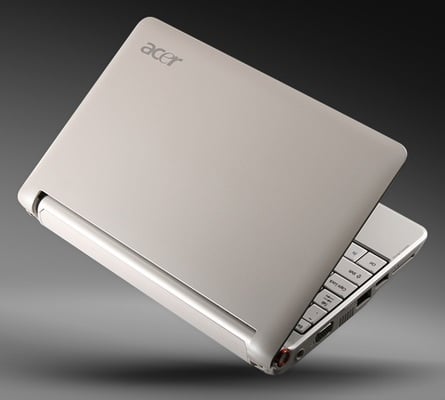 Nice look, shame about the battery life
Speaking of the price, the basic AA1 comes in at around £220, rising to about £230 with the 120GB HDD instead of the 8GB SSD. That's handy if you want to take lots of media content around with you, but for an SCC it seems overkill. £250 will buy you a 120GB model with 1GB of memory, and a further £30 gets you the Windows XP instead of Linux, albeit with 512MB of memory. The version with 1GB of memory costs £300.
Some will argue that's too expensive for an SCC, not without some justification. Go for the basic model, though it's a real shame Acer couldn't bring in out under £200, as it originally promised. It'll make a great secondary machine that you can take with you when you don't need the performance - or fancy carrying the bulk - of your main notebook.
Verdict
The Aspire One is everything a Small, Cheap, Computer should be. The build quality is excellent, the feature list is not half bad, and it certainly looks and feels the part. Indeed, it's the best-looking SCC we've seen. On the down side, the standard battery is poor and - with the Linux versions at least - getting online using a 3G network isn't straightforward.
Of course, the really great thing about the AA1 is that you can tuck it under your arm, go our and feel far less of a tit than if you were carrying a MacBook Air. Worth buying for that alone, if you ask us.
Sponsored: Minds Mastering Machines - Call for papers now open

Acer Aspire One A110
The very essence of the modern netbook: small, cheap, decent performance, lousy battery life
Price:
£220 (8GB SSD, Linux) £230 (120GB HDD, Linux) £250 (120GB HDD, Linux, 1GB RAM) RRP