Intel touts user-defined app cache Vista speed boost tech
Turbo Memory revamped
Will Intel's revamped Turbo Memory software - the code that comes with its Centrino-oriented Flash cache modules - make good on the technology's promise to accelerate Windows Vista application load times?
The chip giant certainly hopes so, but its solution - to let users, rather than Windows, choose which apps are cached doesn't look too friendly for the mass of non-technical users.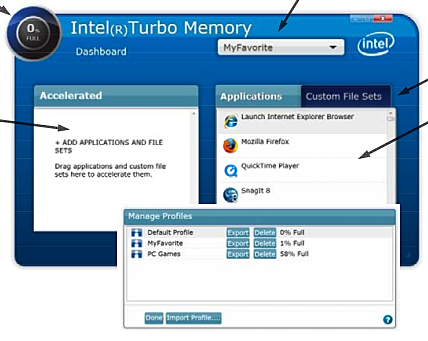 Intel's new Turbo Memory Dashboard
Intel has been offerings Turbo Memory for 18 months now. Before then, the technology was better known by its codename, 'Robson'. The modules sit inside a PC and tie into Vista's ReadyBoost and ReadyDrive features, which use Flash stores to cache frequently uses apps and data, even when that storage is connected to a PC's USB chain.
The idea is that since accessing data on a Flash chip is almost as fast as getting it from memory, Flash can be used as an ad hoc addition to a Vista PC's RAM. Yes, USB's bus throughput is much slower than a hard drive's interconnect speed, but this is outweighed by much tinier time it takes to find the data the system wants.
Or so the theory goes.
The jury's still out. HP last year said it didn't see much value in the technology, and reviews of ReadyBoost have shown that while its underlying data management code - aka SuperFecth - delivers a benefit, it's small one.
Vista's SuperFetch system monitors users' behaviour so it can cache the right apps in ReadyBoost memory, if it's present.
Intel's new Turbo Cache Dashboard app, part of the Centrino 2 era Robson package, lets users themselves choose which apps they want to cache, a technique it calls "user pinning".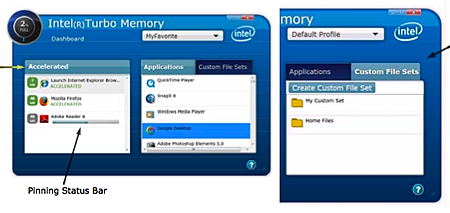 'Pin' your favourite apps
Pinning an app essentially tells Dashboard to put it in the Turbo Cache memory and to notify Windows it's there. The result is that you can be sure the apps you really do use regualarly are cached for quick(er) access.
And it's not just apps - the Dashboard will let you cache folders full of files too.
We look forward to trying this out to see if it does indeed make a difference. But the question remains, how many ordinary users will bother to drill this far down into their system to see if there is any appreciable improvement? And is it likely to encourage notebook vendors to begin including Turbo Memory - many of them don't - beyond their top-of-the-range machines?
Sponsored: Minds Mastering Machines - Call for papers now open