Tired of RRoD taunts? Turn your Xbox 360 into a PC
Enterprising vendor offers case mod
The solution to a hot and noisy Xbox 360 is to put the console inside a big, black PC case - according to one manufacturer, that is.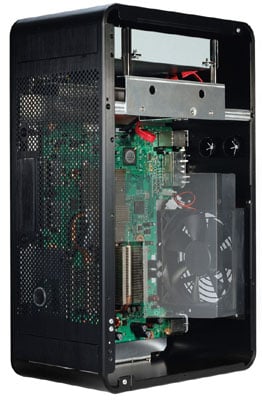 Lian-Li's PC-esque Xbox 360 case improves airflow and reduces noise
Lian-Li Industrial, a self-styled "executive upper-class aluminium PC chassis manufacturer", has designed a PC-like chassis for the Microsoft console that it claims alleviates heating issues from hot components and reduces noise from the 360's vibrating optical drive.
The hard drive-less Xbox 360 Arcade measures roughly 295 x 100 x 80mm, but Lian-Li's PC-XB01 chassis is a larger 415 x 250 x 160mm to give more space for air to flow around the console's components.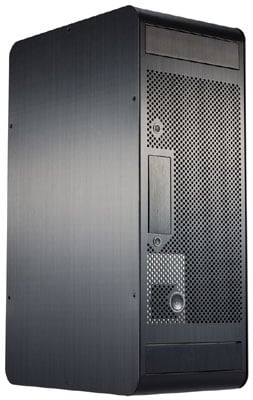 A PC it ain't
Adopting the PC-XB01 isn't as simple as just sticking the console into a larger box. The Xbox 360 has to deconstructed and put into the new casing, piece by piece. This process, Lian-Li admits, requires some "DIY knowledge for the transfer of components".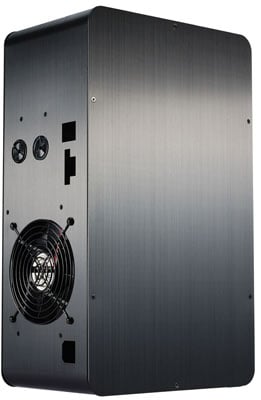 A 1500rpm fan's built into the case
The case has a 1500rpm rear fan to "silently" draw heat away from the internal components and the optical disk drive is encased in foam to reduce noise. In true Xbox 360 style, the PC-XB01 can be sat horizontally or vertically – although it probably won't fit underneath your telly any more.
Of course, opening up your Xbox 360 and moving it into another case will invalidate Microsoft's warranty for the machine.
Lian-Li's PC-XB01 case will be available online later this month for roughly $150 (£75/€65).
COMMENTS
Er, my 360's HDD will connect too right?
Looked over the review a bit and a half, It's mentioned the model used was the "Arcade" spec which doesnt actually have a HDD. Now i may be a complete sap, but i've got the Elite model and its never referenced inanyway in this review that there's a way of connecting the HDD's designed for the 360...
@Why are we still getting PS3 vs XBox360 vs PC comments?
Because it's fun that's why. My iPhone's better than you [insert phone of choice: Nokia, Samsung, Alcatel, Tyco] phone battles.
Lian-li's next case in this vein should be a PS3, Xbox, Wii, PC combined case. That would be fun. Particularly the part where you have to wave your keyboard in the air as the Wiimote is inside it.
RE: Does it solve the HDD problem?
What does a case have to do with solving internal component problems? The Lian Li case is a design to house the internals of the 360. That's all.
The case is without any question part of Lian Li's 7 family, and a welcome addition. I have seen the designs for this release around for a while now, and have no doubt the build quality will be second to none.
Does it solve the HDD problem?
It's a win if you can use a generic internally mounted HDD connected to the xbox 360's board, it's a fail if you can't.
The price of the case and a HDD would still come to less than the offical price of the 120gig HDD, which we're all going to want when the fall update lets us install games to the HDD.
Uses for the surplus XBox case
Add a hinge and put something really cool in it, hmm...
Your portable drinks cabinet
Your collection of Wii games (you know you've got one)
Your encrypted hard disks with all those videos of excitable men with guns that you downloaded from madlunatic.com
Your T3 Magazines (so no-one sees them if you ever have visitors....)
or
Stuff it with the innards of that old 486 you've been using as a door stop, and return it to Argos for a refund, claiming it doesn't work. (No, I didn't mean it officer. Humour, remember? "If you can't take a joke you shouldn't have joined [the police]")
I am sure other Reg readers can come up with something better....