VIA Nano ultra-low power processor
Atom smasher?
The layout of the Nano reference board is more sophisticated than the Intel G945GCLF, with no sign of an ATX 12V connector that Intel decided to include. VIA has added a PCI Express expansion slot and supplies two DDR 2 memory slots where Intel felt that one would suffice.
When the Nano system starts the CPU fan spins at 4300rpm by default which seems awfully fast and noisy. Happily, you can change the fan setting from Enabled to Auto or - God help you - Disabled. By default, the Auto setting sets a lower temperature limit of 65°C and an upper limit of 75°C, and once we had the fan on Auto, the Nano system was transformed. Initially, the fan doesn't turn until the system is under load at which point it picks up when the heatsink hits 50°C or so. It works perfectly.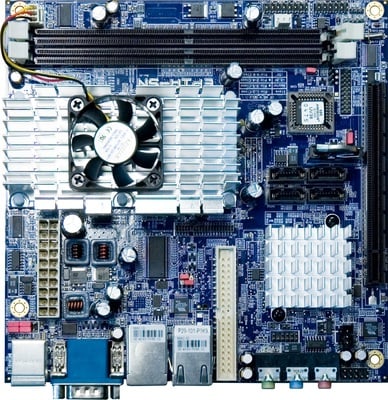 VIA's Nano reference board: top down
We installed the same 32-bit Windows Vista Ultimate Edition SP1 that we had used on the Atom and ran 3DMark06, PCMark05 and POV-Ray. In its reviewer's guide, VIA picks and chooses benchmarks with a great deal of care. It highlights the CPU element of PCMark05 and claims a score of 1418 for the Atom and 2089 for the Nano. Those figures are very similar to our own results of 1379 and 2052, but that's only part of the story.
After we published our Atom review, a number of readers pointed out that it's all well and good for the 1.6GHz Atom 230 to have a 2.5W TDP but this was dwarfed by the power draw of the chipset - which is the reason why Intel stuck an active cooler on the chipset and a passive heatsink on the CPU.
Sponsored: Minds Mastering Machines - Call for papers now open