GTA slammed in parental poll
Worse than beer and porno, say parents
A poll's discovered that parents are more concerned about their kids playing Grand Theft Auto during a sleepover, than over their offspring drinking beer or watching a porno.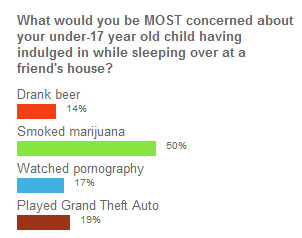 Parents are worried about GTA, and pot
The poll of 1600 parents by What They Play – an organisation that claims to give parents an expert insight into videogames – found that 19 per cent were apprehensive that their kids could play the infamous videogame series, whilst staying at a friend's house.
Admittedly, 50 per cent were more worried about their kids smoking marijuana at a friend's than over playing GTA.
But fears about Niko Bellic's influence on kids came ahead of the 17 per cent of parents worried that their kids could be looking at pornography during a sleepover. A further 14 per cent admitted having concerns about children sipping beer too.
John Davison, president of What They Like – a division of What They Play – said that "parents are as apprehensive about their children's media diets as they are about traditional social issues such as alcohol, drugs, violence and sex".
Sponsored: Minds Mastering Machines - Call for papers now open