Three-alarm fire bakes Apple facility
Building iBurnt, nobody iHurt
A three-alarm fire scorched the roof and damaged offices at Apple's Cupertino, California campus late Tuesday evening.
First reports of smoke began at about 10 pm Pacific Time last night. It took Santa Clara County Fire Department approximately two and a half hours to extinguish the blaze, which is believed to have been started by a faulty air conditioning unit on the second level of the "Valley Green 6" building.
Senior Communications Dispatcher Rafael Salcedo told the Associated Press the fire was "not very big, but there is going to be a lot of smoke damage."
No injuries were reported, but the west wing of the building is reportedly unusable for the foreseeable future.
San Francisco CBS affiliate KPIX has a video of the fire.
We ventured down to the Apple campus this morning, but saw no major damage to the exterior of the building. Employees appeared to be still entering and leaving the building while crews were busy with restoration. ®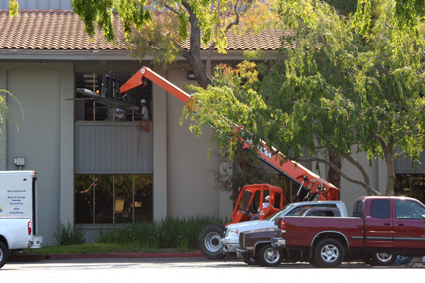 Restoration crews busy at the Apple campus this morning
Sponsored: RAID: End of an era?