Celio Redfly Windows smartphone terminal
An expensive horse for a specific course
Clearly the performance of the Redfly is not going to emulate a netbook or laptop. We tested ours with a TyTn I we had in the office, so in effect what we had may have looked a bit like a laptop but it was still being powered by a 400MHz chip with 64MB of RAM. So to start banging on about it being no match for an EeePC is pretty pointless.
Notwithstanding that, for handling basic Windows Mobile applications such as Word, Excel and the e-mail client there is no doubt the Redfly does make life easier. This review was written on the Redfly/TyTn I combo, not something we would have essayed on the TyTn alone no matter how much we like its slide out keypad.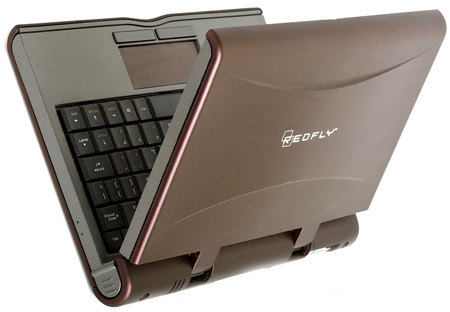 The performance is not going to emulate a netbook or laptop
Of course web browsing is a whole different bag of grapefruit. Opera Mobile 8 pages showed up a treat on the Redfly's screen, but scrolling up and down was an undertaking best measured in geological time - my God it was slow - the same proving true for Google Maps. The new Opera Mobile 9.5 beta, while working just fine on the TyTn itself, simply would not fire up on the Redfly screen so we couldn't tell if that would improve matters.
The rather more primitive Windows Mobile browser did a simpler and so more rapid job. Of course looking at web pages at 800 x 400 is a considerable improvement over looking at them on a 2in screen, not matter what the browser layout or the scrolling speed.
Media playback, or rather the lack thereof, is another clue to the Redfly's overtly business orientated intentions. To start with there are no speakers nor is there a headphones jack. Open up a video or music file and Windows Media Player Mobile fires up in a 2in square box at top left of the Redfly screen while the sound plays back via the your phone's speaker or headphones output.
Sponsored: Minds Mastering Machines - Call for papers now open