Celio Redfly Windows smartphone terminal
An expensive horse for a specific course
When we fired up the SPB Mobile Shell GUI on our Dual things fell apart more rapidly, the Redfly's screen going black and flashing up "New Screen. Out of memory". And we needed to re-boot the Dual to bring it back to life after we unplugged it. All in all a little less than impressive.
Bottom line, the more bog standard your Windows smartphone the better it will get along with the Redfly though to be picky even here there are some minor issues.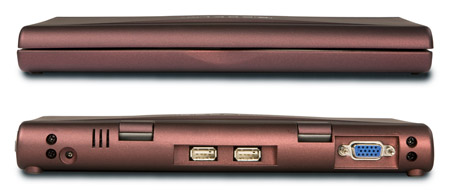 Connections are limited to 2 USB ports, power and a VGA output
The text in certain control panels renders in some odd sizes, for instance open the WLAN setting tab and the words Current Configuration and Signal Quality appear in an enormous font and are thus more than half obscured by the relevant status boxes.
Also the image we had set as the background for the today screen on our TyTn appeared as a small box slap bang in the middle of the Redfly today screen. These sorts of graphical hic-cups may not be deal breakers, but they make the system look and feel just a little clumsy and half-baked.
Your opinion of the Redfly's essential day-to-day usability is going to be entirely based on your opinion of Windows Mobile because at the end of the day all the Redfly does is replicate it on a larger screen. It adds not one jot to the functionality or interface.
Sponsored: Minds Mastering Machines - Call for papers now open