Philips Cineos 42PFL9603D Ambilight LCD TV
Enjoy the HD experience, now with added Ambilight
This TV has more connections than the Kennedys: there are three HDMI sockets on the back and a further one on the side for a games console or camcorder. They all offer the most advanced colour capabilities of HDMI – like most aspects of this TV, the connections are cutting-edge. Component-video is on the back, composite-video on the side, and there are two Scart connectors for those old-school machines you need to hook up. There are also USB and headphones sockets on the side, again for easy access.
This TV runs at 100Hz, the speedy refresh rate that promises smoother, less smeary results than the 50Hz LCD TVs of yesteryear. That promise is kept. With many of the settings on low or even off, the main picture processing engine did its work very well. Additionally, the over-sharp edges that has put some Philips users off in the past seemed absent.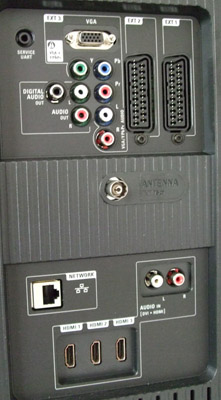 This TV has more connections than the Kennedys
Image quality, it must be said, was exceptional. Of course, standard-definition Freeview channels can disappoint on larger screens as every picture flaw is blown up and revealed. But here natural, smooth skin tones were striking in their subtlety. Could you confuse them with HD? No, but this TV made regular SD signals, both from the built-in Freeview tuner and Sky look strong and engaging. Stylised TV like the excellent Mad Men Season 1 DVD was terrific, the lush retro pastel palette looking rich and gorgeous.
Moving to HD broadcasts demonstrated how good the capability to provide smudge-free fast-moving sports action was and movies shone with a richness in and out of shadow. The TV shop's favourite sources, 3D animations like Bee Movie, looked as sharp as you'd expect and sparkled with judder-free smoothness.
Regular real-life action was also easy to watch, looking obviously crisper than DVD, and the second Pirates of the Caribbean film on Sky HD was very convincing. Though no amount of image processing can make the performances look detailed or realistic, or smooth the ridiculously convoluted plot, of course.
Sponsored: Minds Mastering Machines - Call for papers now open