16-card GPU bangs-per-buck mega shoot out
We name the best GPUs for performance and price
Of course, a low, low price with basic performance is going to push aside a pricier yet more powerful card. So here's how how they stand up against each other when you chart both performance and price: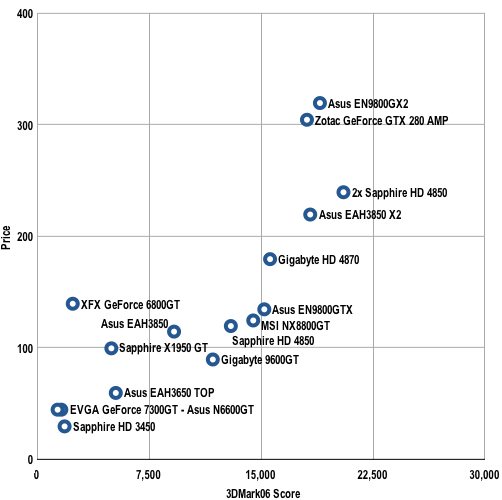 Prices in Sterling
So, the higher up the dot, the more expensive the card. The further to the right the dot, the better its score in 3DMark06.
You can immediately see that two Sapphire HD 4850s, which will each set you back £120, deliver higher performance than considerably more expensive cards from Asus and Zotac.
Likewise, the Asus EN9800GTX performs only slightly less well than the Gigabyte HD 4870, but is considerably cheaper.
Asus' EAH3850 X2 matches the performance of the Zotac GeForce GTX 280 AMP, yet it's almost £100 cheaper. It's not so very less powerful than its EN9800GX2 stablemate.
Since the 'ideal' ramp is a line at 45° to the horizontal, it's clear that pairings like the MSI NX8800GT and the Asus EN9800GTX, and the Zotac GeForce GTX 280 AMP and Asus EN9800GX2 are, respectively, good steps up from each other: the performance increase matches the increased cost almost perfectly.
Verdict
Which card would we recommend? On the basis of our testing, there's only one choice: a pair of Radeon HD 4850s, such as Sapphire's HD 4850. You'll get stunning, GTX 280-class performance for a lot less of your hard-earned.
Sponsored: Minds Mastering Machines - Call for papers now open