Samsung Tocco SGH-F480 touchscreen phone
Who calls a phone Tocco, I mean really
HSDPA at up to 7.2Mb/s on suitably equipped mobile networks provides the facility for fast 3G downloads and streaming, video calling - there's a front-facing low-res camera above the display - and browsing. But the on-board browser is nothing special. It's a fairly standard Access NetFront web browser. You can tap links directly, and use the volume key for zooming in and out, plus there are a selection of Smart-Fit small-screen rendering options and a page thumbnail overview. But the experience feels more conventional mid-tier mobile than iPhone Safari - you can't get an automatic widescreen or motion sensor change, let alone the smooth flow and precise zoom options of the Apple handset.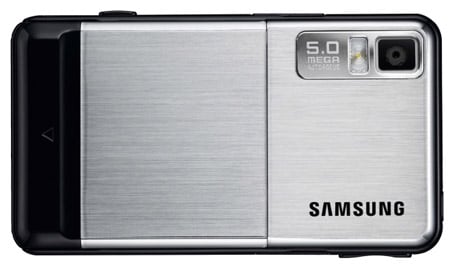 The five-megapixel camera is one of the top-of-the-bill features
The five-megapixel camera is one of the top-of-the-bill features of this handset. It's equipped with an autofocus system, and has a wide range of camera settings and functions to play around with, including not only face-detection technology but also a Smile Shot option – on this setting it won't take a picture until it spots a smile. The flash included on this model is a power LED photo light rather than a more sophisticated, camera-optimised xenon flash, so the shooter doesn't have the full low-light shooting brief we'd like from a high-end cameraphone.
Results with the camera can be impressive. View a full size image an image on a PC and you can see plenty of detail in mid-range or close up shots outdoors, plus good colour balance and exposure handling too. It's not quite up there with the best five-megapixel cameras we've seen, however. In poorer light, shots aren't quite as impressive. Indoors, on auto settings results can deteriorate, with more noise introduced into pictures. Low-light shots with the flash are illuminated within a metre or so, but aren't particularly refined or well-lit.
One issue we found in regular use was with the slow reaction of image capture from when the capture button was pressed. The two-step focus-then-shoot when using autofocus is understandable. But the camera processing has a definite lag from full button pressing to capturing the image that means you can miss the precise shot you want if a subject's not completely still. This can be frustrating, and can also lead to blurred shots if you move thinking the snap's been taken.
The camera touchscreen interface is rather good, though. A press of the side-mounted camera button activates the camera display in landscape mode, with a screen tap calling up the first set of options. The interface is intuitive and simple to control, with options and sub-menus clearly laid out. It's easy to tap and select to adjust the automatic settings, or add effects and so on. The face detection and Smile Shot features seem to work effectively, and there's an anti-shake option to counteract hand-wobble or shutter delay.
Sponsored: Minds Mastering Machines - Call for papers now open