Intel to brand next-gen CPUs 'Core i7'
No, not 'Core 3'
Intel's next generation of desktop - and, undoubtedly, mobile - processors will retain the chip giant's Core brand, the company said this morning. No great surprise there, but they won't be 'Core 3' parts.
No, 'Nehalem' architecture chips will be marked 'i7', instead, though Intel further muddied the waters by telling us to expect other such codes for different next-gen CPUs as the roll-out continues through 2009.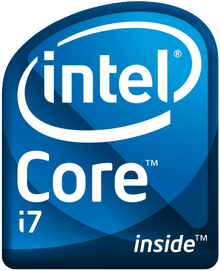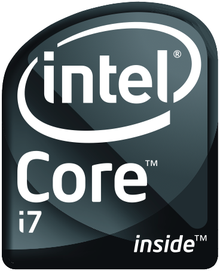 Intel's Core 3 i7 logos
The logos Intel published today suggest that while it will continue to offer Extreme-class CPUs, aimed at gamers, they'll be distinguished visually simply by a black version of the blue logo to be attached to boxes and machines containing regular desktop Core i7s.
There's a logic to the use of 'i7': just as Pentium was Intel's fifth-generation processor architecture, so the new Cores will be its seventh major x86 CPU design. You can argue that it should be a bigger number than that, given two preceding generations of Core and various Pentium variants, including the NetBurst architecture, but don't tell us, tell Intel.
Whatever, will consumers see 'i7' as a step above '2'? We're not convinced they will, especially after Intel made such a song and dance about naming the fifth incarnation of its Centrino platform 'Centrino 2' precisely because it would be easier for punters to see it as being superior to previous ones.
The fourth quarter will see the introduction of a pair of mainstream desktop quad-core parts and a single Extreme chip. All three processors are codenamed 'Bloomfield'. The Extreme part is set to clock at 3.2GHz and connect directly to 1333MHz DDR 3 memory. The other two Bloomfields will run at 2.93GHz and 2.66GHz, respectively, and connect to 1066MHz DDR 3.
All three chips can link to three channels of memory.
Nehalem chips will use Intel's new QuickPath Interconnect (QPI) bus. In the case of the Extreme CPU, the bus is tuned to deliver 6.4bn transfers per second (GT/s), while the mainstream desktop chips' QPI bus runs to 4.8GT/s, it's claimed.
All three CPUs clip into LGA1366 sockets. They contain 8MB of L3 cache shared across all four cores - each core has its own complement of L1 and L2 cache; 256KB of the latter - and support all the usual Intel extension technologies except TXT (Trusted eXecution Technology). They're all said to have a power and thermal envelope of 130W.
Sponsored: Minds Mastering Machines - Call for papers now open