TomTom GO 530 Traffic
Already tip-top TomTom gets tweaked
For storage of music and the like the 530 comes with 1GB of on-board flash memory, though only about ⅔ of that is free after the system takes its dues. An SD card slot allows you to expand on that and though TomTom's literature is silent on the subject it appears to be SDHC compatible, a 4GB SDHC card in the 530 showing up just fine on our PC desktop.
The 530 comes loaded with UK & Eire maps as well as all the usual TomTom bells and whistles including Bluetooth, TomTom Map Share, an FM transmitter and 3.5mm audio out jack so you can pipe the 530's audio via your car stereo and, in "Traffic" guise, RDS-TMC live traffic information. It will even read out your incoming texts if paired up to your phone.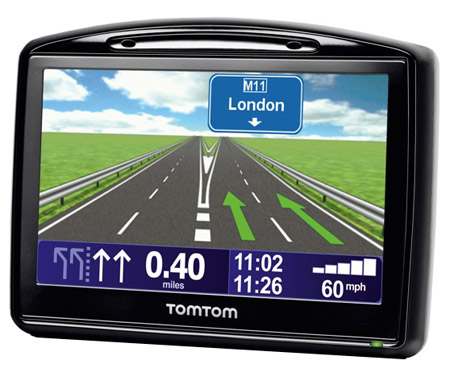 The day/night sensor is a little over-sensitive
TomTom claim five hours of continuous use if you find yourselves without you car charger, but that is either a typo or they are assuming you will set the device to switch the screen off between directions - the best we managed was about two hours thirty. On the upside, the QuickGPSfix system never took more than a few seconds to lock onto a satellite signal.
One final note. At the time of writing you can get the still perfectly usable GO 520 Traffic for around the £180 mark, a good £70 less than the best price we found the 530 for and a whole £100 less than TomTom want.
Verdict
The GO 530 is a fine update of the GO 520 rather than a new product per se, but is nevertheless an efficient, reliable and clever navigation device. Not cheap, but the quality build, USB desk stand and excellent screen mount go some way to justifying the premium price.

TomTom GO 530 Traffic
An already good TomTom product has just got slightly better, but also rather more expensive