SQL Server 2008 moves on, wants to stay friends
It's not you, it's the BI and database engine
New reporting rules
Major changes are evident in Reporting Services, to the point of being an entirely new tool. The familiar tools are still in evidence, namely:
Report Builder (used primarily by IT people to create report models for business users) remains much as it was in 2005
Report Designer, running within Visual Studio and aimed at the IT professional, has been upgraded
New, though, is the 2008 Report Builder for the power users, supplied as a web download. A stand-alone product, it offers all the layout features of Report Designer with an Office 12 ribbon interface.
There are new controls for displaying data in reports: one is the Gauge. Perfect for displaying a single value, a range of gauges is also useful for comparing several values. A variety of gauge types is available, with pointers, sliders or simply showing a value.
The Tablix control is for rather more complex data than that served by gauges. It combines the abilities of the existing Table, List and Matrix controls and gives much greater control over layout.
New chart types include polar, shape and range, and multiple data series can now be displayed on more than one axis and the scale breaks on the axis are customizable.
Integration Services has acquired a Data Profiling Task that facilitates an understanding of the distribution of data in the source systems that feed into a data warehouse. Previously this has been gained the hard way by issuing multiple queries to ascertain the domain and distribution of values. The new Data Profiler is a data-flow task that lets you define the information you require: eight profiles are included.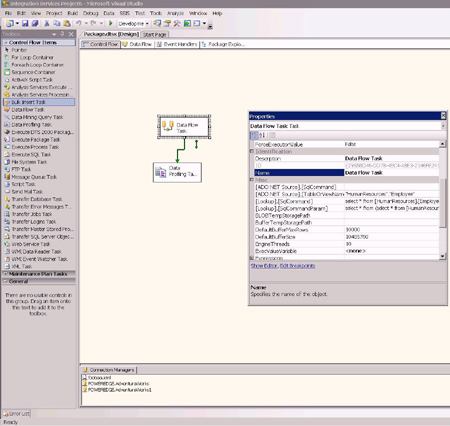 Graphically speaking: a data-flow task on display
Stack pack
So how has Microsoft packaged this little lot? The complete SQL Server - with all the features described plus the BI tools - is Enterprise edition, available for 32- and 64-bit systems. The Standard edition comes with a subset of features and BI tools targeting departmental users and the online transaction processing (OLTP) systems of small- to medium-sized enterprises (SMEs).
There are also Workgroup, Web, Compact and Express editions. This last is available for free download and ideal for the small business considering a move to a client-server. The Express edition is also more than capable of producing desktop and small server applications, and can be used commercially. For comparison between editions go here.
In summary, then, SQL Server 2008 has some nice features and is a database that I shall certainly be using more of. Microsoft's also put another component piece in to the game to counter the open-source stack. But it'll cost you and it's late to the game. Were these refinements and new features worth the price of delay? That'll all depend on your requirements and your point of view.®
Sponsored: Minds Mastering Machines - Call for papers now open