SQL Server 2008 moves on, wants to stay friends
It's not you, it's the BI and database engine
Review Microsoft's SQL Server 2008 is now upon us. More than a year after its initial planned delivery date, Microsoft Wednesday released to manufacturing code for a new version of its database that's almost as significant as its last great release - SQL Server 2005, three years ago.
Microsoft is, with SQL Server 2008, bucking its usual software pattern for a major upgrade followed by a minor one.
SQL Server 2008, though, seems to respect both sides of the equation: there's enough new stuff to keep you occupied while, simultaneously, offering familiarity with the past - in analysis schema, for example. The most apparent changes in SQL Server 2008 come with the addition of a completely new version targeting the web, and with improvements to the database engine and Business Intelligence (BI) tools.
Acronyms unlimited
The SQL Server Web Edition has been designed to provide a robust back-end to web systems. Its feature set is optimized for that task and includes policy-based management tools, automated security policy enforcement and performance data collection tools, all of which can help build a leaner meaner business. Although this edition can only address four CPUs, there are no limits on memory or database size.
The arrival of the web edition continues Microsoft's move into the world of Linux, Apache, MySQL, PHP (LAMP) so let's train a spotlight on this development.
Many Reg readers using the LAMP stack will remember that back in 2005 Microsoft had very little that was comparable. OK, there was the free, Express version of SQL Server, but what about the rest? With the arrival of SQL Server 2008 Microsoft has made determined inroads to redress the position and offer a viable alternative.
Microsoft has been working hard to get Apache and PHP working and optimised for Windows, and MySQL already runs on the Windows platform. Microsoft is arguing that we shouldn't think of LAMP as a single unit in the way the acronym suggests: we should embrace the fact it comprises four components, which we can mix and match as we see fit.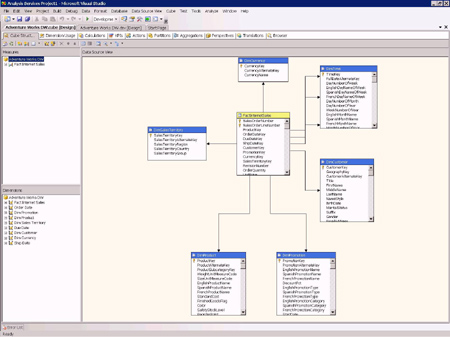 Looks familiar: analysis schema displayed
A wonderful new range of acronyms is thus born: WAMP, for example (Windows, Apache, MySQL, PHP) and WASP (the same but replacing MySQL with SQL Server) and even WISP (Windows, IIS, SQL Server, PHP) - you get the picture, though one you're not likely to find is LISP (Linux, IIS, SQL Server, PHP).
If you are already a LAMP user and discover you need features in your database engine that are not supported by MySQL - such as BI tools, for example - you are free to build exactly the stack you need, perhaps moving from LAMP to WASP.
Sponsored: Minds Mastering Machines - Call for papers now open