Olympus SP-570 UZ 'superzoom' camera
This puppy packs a protruding 20x zoom
No surprises that you also get image compensation system (both mechanical and digital, using a sensor shift system and ISO boost), Face Detection, Red Eye Reduction and a host of in-camera editing features. There are a number of drive modes too including, two high speed sequential shooting modes at 7.2 f/s (5MB file size) and 13.2 f/s (3MB max file size). There's also a pre-capture mode available at the fastest speed, which stores the first 10 frames when the shutter is half-pressed.
In both cases, the buffer can store up to 30 frames. A nice touch is that RAW images can be edited in-camera, for example, converted to a high-res JPEG (useful if you're sending an image to a person doesn't have the appropriate RAW file reader on their PC), and you can also adjust parameters such as sharpness, contrast and saturation.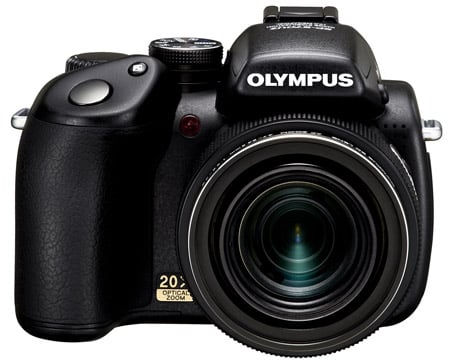 The SP-570 UZ is packed with features and functions
In terms of handling, the SP-570 UZ is a bit of a curate's egg. The right hand grip is comfortable and the index finger falls naturally on the shutter button while the thumb can be used to move the control dial: handy if you want to change say, the shutter speed in shutter priority mode.
However, the left hand grip is not so comfortable, especially if you have large hands. Providing the option of an EVF or LCD screen is to be commended, but the EVF's resolution is rather coarse (it's like looking through a chicken wire fence) and you get blurring whenever the camera is panned.
We found the menu system rather fiddly, with lots of scrolling involved. The function button was more useful for making quick adjustments to a range of functions such as, white balance, ISO, flash mode, image quality and contrast. Although the zoom ring is operated manually, it doesn't offer true manual control; servo motors move the lens. As a result, there is a short lag between making an adjustment and the camera being ready for action.