Olympus SP-570 UZ 'superzoom' camera
This puppy packs a protruding 20x zoom
Underneath the dial is an on/off lever, and next door, is a large dial that can be used for selecting the aperture and shutter speeds under certain shooting modes, zoom into playback images, and select menu functions.
In the front are a tiny exposure compensation button and a shutter button. At the back is an electronic viewfinder and dioptre adjustment dial, 2.7in LCD screen with 230,000 pixels, display button (for selecting the EVF or LCD screen - you can't use both for viewing scenes at the same time – AE and AF lock button, large multi-function control dial for macro, flash, drive and custom settings, plus a central OK/function button.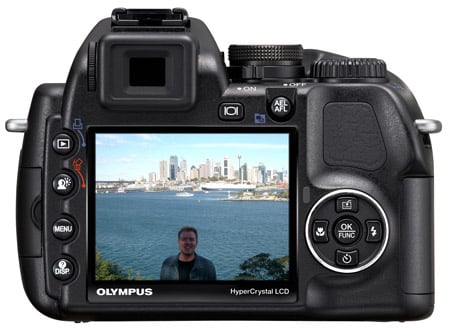 We found the menu system rather fiddly, with lots of scrolling involved
On the far left are four small buttons for playback, shadow adjustment technology (designed for shooting objects against a strong backlight) menu and display mode. Phew. At the bottom is a cover for the battery compartment. The SP-570 UZ only uses four AA-sized alkaline or NiMH rechargeable batteries, so forget about your high energy lithiums.
Olympus states that "battery life varies according to the product." Well, thanks a lot for that. It also uses xD cards and what's more, if you want to use the rather nice panoramic modes on this camera (this includes an automatic panoramic shooting function) you're going to have to invest in an Olympus-branded xD card. Talk about keeping it in the family.
The SP-570 UZ is packed with features and functions, and here are some of them: a 1/2.33in CCD with 10 million effective pixels, it can record JPEG or RAW (Olympus Raw Format) images with a top resolution of 3648 x 2736 pixels, record movies at VGA or QVGA resolution at 30 fs (AVI files with WAV audio), shutter speed range is 1/2-1/2000sec with long exposures up to eight minutes long possible in BULB mode, ISO rating from 64 to 6400, 23 scene modes ranging from old favourites like sport, landscape and portrait, to exotic ones like auction.