Physical USB security
Keep your data under lock and key
Keeping information stored on Flash drives is vital, but if you're not convinced that software encryption's secure enough then a physical option's now available.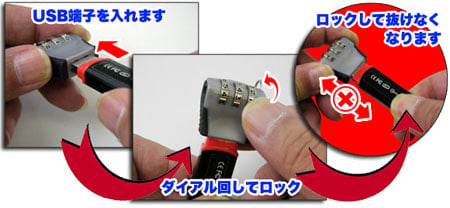 Thanko's USB padlock
Quirky Japanese retailer Thanko has launched a combination padlock for Flash drives that slides onto the USB connection and enables you to set a three-digit security number.
Once set, the lock can't be removed from the drive unless the combination is dialled.
Since the lock sits on the USB connection, the drive could also be used to prevent all sorts of USB-connected gadgets from being used.
Thanko's USB padlock is available online for ¥780 (£4/€6/$8).
COMMENTS
I'm stumped...
So here I stole this interestingly protected usb stick... but I can't plug it in do I
a) give up on it
b) take a screwdriver to it and dismantle it, desolder the original connector and
solder on a new one
I'll go with option b...
5 minutes later
Ahh so this is what the government has been up to...
When I see security I reach for my trusty catapult.
On the face of it a good developement although there is always a but. Surely, the best security is to keep the possibly offending flash drive in your pocket/brief case when it is not in use. I do not forsee any problem in hogging one USB outlet as there are several "multi" devices available, I have a seven outlet one myself, and these could be used in conjunction with other devices into infinity, and my computer has four outlets as well.
Secure?
Cheap combination locks are generally a doddle to crack, by either physical or logical brute force. Besides, the determined data thief could just open the drive and bypass the connector altogether.