The solar-powered gadget purse
Power-up in style
We all carry a stack of gadgets around with us, but whether you keep them in a handbag, manbag, pocket or plastic bag, it's keeping them charged up that's important. Enter the Power Purse.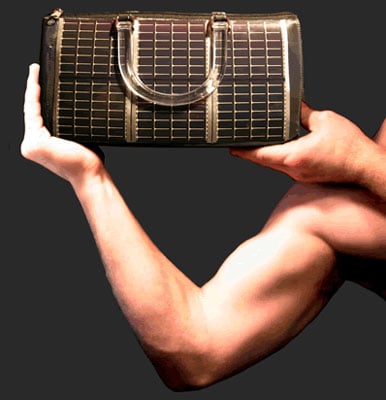 Power Purse charges gadgets with solar energy.
This high-tech bag's outer surface is covered with solar panels that absorb the sun's rays and create electricity used for powering everyday gadgets.
But you won't need to leave the bag sat on a Starbuck's table whilst you charge your iPod, because a USB port protrudes through the bag's lining that allows you to plug-in and charge-up your gadget whilst it's inside the bag.
Power Purse was designed by US student Joe Hynek, aged 29. He told the Daily Mail that the bag takes about two hours to charge a mobile phone – provided it's sunny outside, of course.
"The shape of it is designed so it can sit on a windowsill and charge while you're at work," he said. "My goal is to use solar cells in a way that's unobtrusive to fashion while making something useful".
The Power Purse is expected to be available in the UK by December, priced at around £150 (€180/$300).
Sponsored: Minds Mastering Machines - Call for papers now open