In addition to the multimedia capability, the NV4 offers up to 8.2 megapixel performance, 3x optical zoom 6.3-18.9mm (equivalent to 38-114mm on a 35mm camera), 1-1/2000sec shutter speed range, ISO range from 80-3200 (the latter only works if the file size is 3MB or smaller), multi, spot and centre-weighted metering, movie recording in SVGA (800 x 592), VGA (640 x 480) and QVGA (320 x 240) – all modes offer 20f/s, with VGA and QVGA modes also offering 30 and 15f/s shooting).
The NV4 uses a modified Xvid MPEG-4 file format and comes with converter software for converting other video file formats. You also get digital image stabilisation (a poor person's version of an optical system), face detection technology and red eye fixing.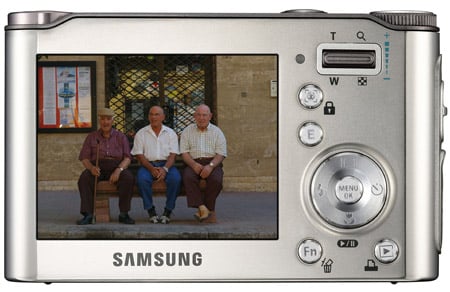 Around the back is a 2.5in, 230,000 pixel LCD screen
As usual, there are bunch of shooting modes (13, including nightscan, children, fireworks, food and cafe), various image editing modes (for saturation, contrast, sharpness, resizing and various colour effects). Other shooting modes include single shot, continuous, auto exposure bracketing and motion capture (fast time lapse).
When it comes to operating the NV4, we're afraid to report that it's a case of nice looks, shame about the handling. This is certainly a pocketable camera, measuring just 94.5 x 57 x 17.5mm and weighing 139 grams minus battery and card, but from then on, it's almost all downhill.
Let's start with the tiny power button. Yes, a power button should be designed so that it's not easy to accidentally switch on the camera when it's in your bag or pocket, but the NV4's button is so deeply recessed, that you need the muscles of Desperate Dan to press it on.
COMMENTS
Excellent idea
It's about time someone came up with something like this. Now they just need to add some kind of mobile communications device to it (perhaps some sort of "mobile telephone"?) Then I'll finally be able to buy a mobe where the camera isn't shit. Happy days.
Video frame rates
What is it with digital camera and cameraphone vendors supplying ridiculous video frame rates? This one provides 20fps, 15fpd and 30fps, but why not PAL-friendly 25fps or 50fps? Frame rate conversions create a juddering image, especially visible when panning. Maybe Korea uses NTSC and that is where the last two rates come, but actually Nokia phones have the same problem, even though the vendor hails from the PAL universe (ok, actually digital DVB these days, but the TV frame rate in Finland is still 50 fps interlaced).
Is there any cameraphone that shoots video in 25fps or 50fps at VGA resolution or better? I'll buy it even if it is not Nokia...