Samsung NV4 multimedia camera
Nice looks, shame about the handling
Review This is the age of convergence, when the lines between various digital devices are blurred. Many use their mobile phone to take snaps, so it's no surprise that camera manufacturers are fighting back.
Take the Samsung NV4 for example. Now you might think that this is just another compact digital camera, but you would be wrong, because Samsung is also marketing it as a portable multimedia player, with the ability to play MP3 files, read text files and record and playback video. Pity it can't make you a cup of coffee – at least not yet.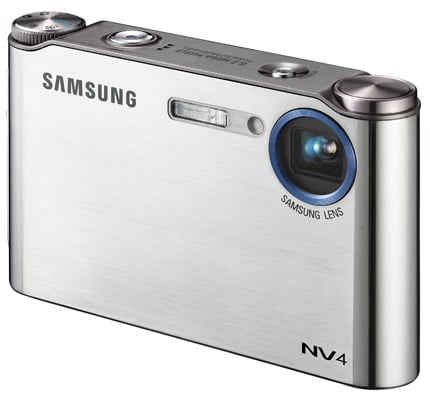 NV4: multimedia-playing-digital-camera..? Hmmm...
The NV4 comes in a compact stainless body that looks and feels very classy. It's available in four colours (silver, black, pink and titanium) and its slender lines are reinforced by its internal zoom lens, which means that nothing pops out of the front, even when you're at the telephoto end of the zoom.
At the front is the lens and flash, and on top is a mode dial (for selecting auto, program and movie modes etc), shutter button, microphone, power button and speaker. Around the back is a 2.5in, 230,000 pixel LCD screen, zoom rocker, camera status lamp, effect button (which lets you select...er, various colours effects, such as sepia), function button (which lets you select a host of functions including ISO, metering and white balance), multifunction dial (for flash, self-timer, macro and display mode), playback/print button, and another button which can be used to select the face detection system or multimedia mode.
Around the side is a small, plastic flap covering a mini USB/AV/DC port. We weren't convinced about the durability of the flap, which seemed rather on the flimsy side. At the bottom is a flap covering the SD/SDHC/MMC card slot and battery holder).
COMMENTS
Excellent idea
It's about time someone came up with something like this. Now they just need to add some kind of mobile communications device to it (perhaps some sort of "mobile telephone"?) Then I'll finally be able to buy a mobe where the camera isn't shit. Happy days.
Video frame rates
What is it with digital camera and cameraphone vendors supplying ridiculous video frame rates? This one provides 20fps, 15fpd and 30fps, but why not PAL-friendly 25fps or 50fps? Frame rate conversions create a juddering image, especially visible when panning. Maybe Korea uses NTSC and that is where the last two rates come, but actually Nokia phones have the same problem, even though the vendor hails from the PAL universe (ok, actually digital DVB these days, but the TV frame rate in Finland is still 50 fps interlaced).
Is there any cameraphone that shoots video in 25fps or 50fps at VGA resolution or better? I'll buy it even if it is not Nokia...