Sony Ericsson W350i entry-level Walkman phone
Retro-flip design and quality music player hits the right notes
The earphones supplied with the W350i are better quality than average for a mobile, reproducing lower frequencies pretty well. Of course, better quality headphones will make a significant improvement to sound quality, and we'd always recommend trying your own upmarket ear-gear whenever you can.
As standard with Walkman mobiles, the earphones are a two-piece set, with a 3.5mm headphone connector socket mid-way, so you can add your own. One niggle – once again - is Sony Ericsson's positioning of its proprietary headphones/charger/USB connector socket, on the side rather than the top or bottom. As we've said before, the bulky connector is more easily snagged in pockets with this layout.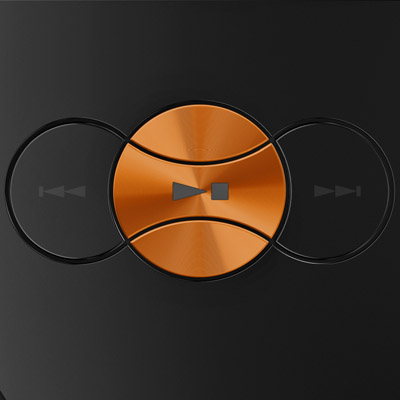 The music player buttons on the flip have an attractive rounded design
Your sideloaded tracks can be complemented by free music too, courtesy of the easy to use onboard FM radio. You need to have the adapter part of the headphone lead plugged in to receive it, though, like the music player, you can play it through the loudspeaker - if you can put up with the tinny, bass free sound. Stereo Bluetooth, for wireless headphones or speakers, is part of the spec too.
Sony Ericsson's excellent TrackID song identification software is supplied, and with a further nod to musicality, there's the regulation Music Mate piano and guitar chord instructor Java app nestled in the apps folder.
We should mention the camera. It's a basic 1.3-megapixel snapper – the lowest resolution you'll see on any new cameraphone in the UK (all but the most entry level are 2-megapixels and over). There's no flash and limited functionality and controls; some younger users may also be put off by not being able to shoot video with the camera (though you can watch video clips sent, downloaded or copied to the phone).
Sponsored: Minds Mastering Machines - Call for papers now open