LG KC550 5-megapixel cameraphone
Looks like a fish, moves like a fish...steers like a cow
The music player is decent enough if again unexceptional. You can copy tunes by dragging and dropping from your PC or send them via Bluetooth, file them in the usual way and set up playlists. There's also a shuffle option and a graphic equaliser with 10 presets, none of which seem to have much effect, and an FM radio.
The sound through the supplied headphones is a little better than we'd expected, especially since the headphones feel even cheaper than the casing. There's a decent level of bass though the high end and midrange feel a bit constrained – good for rocking out or getting your groove on in other words, but less well suited to jazz, folk or country tuneage. Unfortunately the headphones plug into LG's power slot rather than a 3.5mm jack plug, so you won't be able to swap the them for your favourite in-ear brain melters.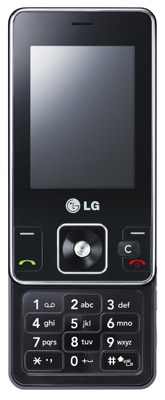 The main use for the accelerometer is in motion-sensitive games
The main use for the accelerometer seems to be in a series of motion-sensitive games called M-Toy. Take your pick from darts, fishing, baseball (no cricket?), hammer throw or maze. It's not particularly sensitive and seems to be based more on luck than skill but there's a good five minutes' of fun to be had before you give up and go back to your Wii.
The upside of this being a moderately specced phone is that the battery held up well over three days, with very limited use of the web browser (we couldn't bear it) but quite extended use of the camera. The paltry 25MB of onboard memory won't take you very far, though you can add up to 4MB with a microSD card (not supplied).
Verdict
LG says the KC550 is its cheapest 5-megapixel cameraphone and even if it doesn't quite look it, it certainly feels it. But with corners cut on the build quality and functionality, with no 3G or Wi-Fi, no decent web browser and underpowered memory, it still covers most of the basics and also has a pretty good camera at a decent price.
Sponsored: Minds Mastering Machines - Call for papers now open

LG KC550 5-megapixel cameraphone
It looks slick but feels cheap, there's no 3G and the web browser's nothing to shout about. Good camera though
Price:
Pay as you go: £180 RRP