Toshiba's handy camcorder
Sporting an "attractive palm-shaped design"
Toshiba has expanded its Camileo camcorder range with a pocket-sized model, perfect for anyone concerned about portability and price.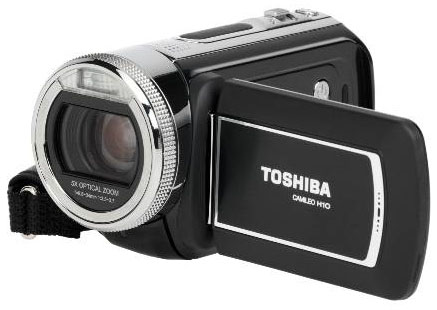 Toshiba's Camileo H10: small and handy
The H10 model supposedly sports an "attractive palm-shaped design," which is…erm…handy, and weighs in at a pocketable 340g. So, the camcorder should be suitable for everything from filming your kids at the beach, to shooting a rock climbing film whilst hanging from a carabineer.
Video capture resolution is 1280 x 720 pixels and a 5x optical zoom is onboard. The camcorder encodes video into MPEG 4 format, whilst recording your films onto SDHC cards. The 10-megapixel sensor also allows high-quality still images to be captured.
Both video and still images can be viewed back on the camcorder's integrated 2.7in LCD display, or connected into, say, an HD telly through the shooter's HDMI port.
If you're not quite up to Spielberg's level yet though, then Toshiba's included several useful video features. For example, night mode lets you re-enact The Blair Witch Project, whilst a range of special effects, such as black and white, could help give your film that Charlie Chaplin feel. Video stabilisation is also included.
Toshiba's Camileo H10 will be available later this month for around £180 (€230/$360).
COMMENTS
Launch trajectory
Lets hope it comes to market when they say it will, unlike the Camileo Pro HD which:
- Looked really good for the money
- Was announced all over the place including The Reg.
- I got all excited about because it looked like it would be a nice toy and I wanted it yesterday
- Appeared about a month later than it was meant to
- Never actually appeared on Toshiba's website.
- The reviews were eventually not entirely kind to.
- I had given up on by the time it was on sale.
- Has apparently now been discontinued, just a few months after going on sale.
- Looked like a rebadged Aiptek, although different sites had pictures of various completely different products.
Fingers crossed for a better product launch and a bid of quality HD moviemaking fun?