Edinburgh Fringe ticketing chaos continues
Standing on the shoulders of clowns
Posted in Management, 25th July 2008 09:47 GMT
Watch Now : Virtual Machine Movement with Hyper-V
The Edinburgh Fringe festival gets underway a week on Saturday (3-25 August) but ever since tickets went on sale the box office system has suffered several major technical cock-ups.
As we previously reported, tickets were supposed to be generally available to punters on 9 June, but festival organisers admitted that they had been forced to suspend sales until problems with their computer system were fixed.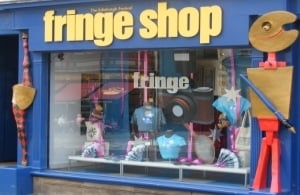 No Fringe benefits here
The Fringe launched its new Liquid Box Office electronic system, supplied by Glasgow-based Pivotal Integration Ltd, in June. However, it failed to cope with customer demand for the festival's 2,088 shows.
Organisers enlisted the help of their web support company, Kraya, on 17 June. It replaced the botched system with a new one that should have allowed people to buy tickets in person at the box office, and by phone and online.
Sadly for the Fringe, and its increasingly frustrated customers, the Kraya system had one major flaw: it couldn't print the tickets.
By that time the firm was confident enough to revert back to Pivotal Integration's system on the understanding that it had resolved all technical glitches. But the Fringe organisers then suffered another embarrassing setback with the new system when they discovered tickets couldn't be printed fast enough to clear orders already received.
The Fringe was forced to take yet more drastic measures at the start of this week, once again halting counter and telephone sales in an attempt to clear a huge backlog.
Tickets are now back on sale and the Fringe is currently carrying a message on its website assuring some 150,000 people that have already paid for the event that tickets are being printed and posted out just days before preview shows kick off.
"The first batch of 27,000 tickets for the preview week of the Edinburgh Festival Fringe will be posted today (Wednesday 23 July). All tickets from this batch will be posted first-class and should arrive with ticket buyers before previews start on July 30."
It added that regardless of its box office technical blunder: "The Fringe will go ahead as planned and no shows have been cancelled because of ticketing difficulties."
Knock, knock! Who's there?
El Reg asked the Fringe if it could provide us with more details about the technical cockups encountered with the new box office system.
A spokesman at the firm told us: "We have had problems with ticket printing and we are working closely with our ticketing system supplier Pivotal Integration to make sure that customers have the tickets as soon as possible." He added that over 100,000 tickets will have been posted out by today.
"We are absolutely clear that the Fringe will run as planned and we would encourage everyone to continue buying tickets for shows. We are focused on delivering an excellent festival for artists, venues, audiences and all other stakeholders," said Fringe director Jon Morgan.
"Everyone involved at the Fringe has put in a fantastic amount of effort to get tickets out so that people can enjoy the shows they are looking forward to."
At time of writing Pivotal Integration could not be reached. According to Companies' House records, the firm's director Andrew Trevor Lloyd quit on 24 June. ®
Watch Now : Virtual Machine Movement with Hyper-V
COMMENTS
Could have done better
The system these chaps use had the major promise, I saw this tech when in VC mode, i.e. seeking grants, funding etc. I believe the guys that run it got too far away from the coal face and didn't deliver, or delivered against the contract obligations which probably wasn't designed for this. Shame, could have been a good win for these guys. Sounds like someone has a new coat. Perhaps the technicolour one didn't suit.
glezgae kissis tae yez a', ye feeshin' bambots
Original system worked fairly well - operators noticed possibility of there being a lack of tickets but adequate workaround in effect - minimal distruption. Room for minor improvement.
Along comes the accountant, the resources manager, the events organiser, the shareholders and half a dozen quango wannabies and before you know it there's an enormous white elephant of a computer system at the heart of the mother and father of all fuckups...
Any clues there for HMRC, tax office, DVLC, NHS Direct, Family tax Credit, Olympics Committee ???
Fringe Benefits?
With the usual Glasgow - Edinburgh rivalries, the blame for this should be running backwards and forwards across the M8 even longer than the Olympics.
No doubt the system was recommended by their Auditors.
T
Got mine
I used the edfest.com site for booking comedy show tickets. It's pretty rubbish too but it seemed to work OK. Even though you sign up you don't get a schedule like you do on edfringe.com which is pretty rubbish. And the free BBC shows that I wanted to catch seemed totally unbookable on edfest and I usually enjoy those ones (turns out there are sold out now :()
Not sure how related the two systems are but one's PHP and the other is ASPX. So clearly not just a different skin on the same system.
Also, as an Edinburgher born and bred, I went through a phase of hating the festival... then one year I just took a shake to myself and realised how much fun it was (not to mention how many pretty girls turn up in town!) Now it's my fav time of year and I never go away during August if I can help it. Friends come to visit and crash on sofa/spare rooms, late nights, plenty booze and lots of random conversations! Can't beat it!
I can't see the problem, the system seems to be working
"The Fringe launched its new Liquid Box Office electronic system, supplied by Glasgow-based Pivotal Integration Ltd, in June. However, it failed to cope with customer demand for the festival's 2,088 shows."
If they are taking bookings that far ahead then I think they must have a cracking system. Planning for ticket sales 80 years ahead is pretty clever.