Poker-faced Ballmer explains Google beating plans
Send in the marines
When you report annual revenue of $60bn you'd expect Wall St would give a little credit where credit's due. Not take your stock price outside and rough it up.
Yet, a pounding it got last Friday from analysts concerned by increasing costs and ongoing losses at Microsoft's online business - MSN, Windows Live, Live Search and Microsoft Advertising.
The online business (OLB) reported a $1.2bn annual loss thanks to substantial spending on R&D - up 14 per cent for the whole company to a record $8.6bn - and increased marketing activities to promote Windows Live and Live Search among consumers to whom the internet means Google.
So it won't have helped when, on the eve of Microsoft's annual Financial Analysts Meeting, where senior management explain how they'll make stock holders even richer in the coming fiscal year, that the executive leading its online strategy just suddenly quit after 16 years with the company and less than two years since taking charge.
Not exactly a ringing endorsement, and a turn of events that saw Microsoft's stock take its second plunge in two weeks - down around seven per cent on Thursday.
Time to send in the marines, or one ex-marine in particular - chief executive Steve Ballmer - packing some shiny weaponry in the form of demos. Dazzle the money men and convince them Microsoft's online strategy is - contrary to perceptions - not a money pit that's failing to increase market share in search of advertising, and its strategic gambit for success - the purchase of number-two player Yahoo! - has not degenerated into an embarrassing soap opera.
"With [recent] organizational changes, it seemed like today was a good day for me to get in front of you with the topic [online and search]," Ballmer said referring to Johnson's departure and the fact he now has direct responsibility for Microsoft's separate Windows Live and OLB activities.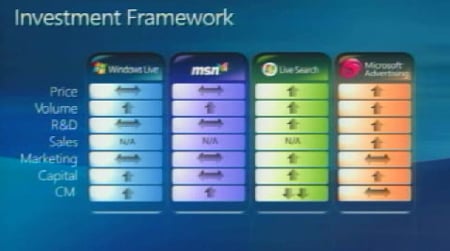 Spending up across most categories for Microsoft Live Search and Advertising
"It made sense to have the person talking about the big investment we were making online was going to be here in three weeks," Ballmer said.
Ballmer talked tough, telling analysts to brace for more losses from OLB as it "antes up" in R&D and marketing around Live Search and Microsoft Advertising. These are the two areas in OLB seeing the biggest increases in spending in what Ballmer called a "two-horse race" against Google.
Sponsored: Minds Mastering Machines - Call for papers now open