AMD Radeon HD 4850 and 4870
Snatching the price:performance crown from Nvidia?
The Radeon HD 4850 and 4870 have clearly got Nvidia rattled and the result is that GeForce 8800 and 9800 have been discounted to the same levels as the new cards. Should you buy a GeForce 9800 GTX or an HD 4870 then? That would be the AMD option, thanks. It's got stonking performance and has the added bonus of DirectX 10.1 support. But if you do choose the Nvidia product, you might at least offer a few words of thanks to AMD for making your graphics fix cheaper.
Power Draw Results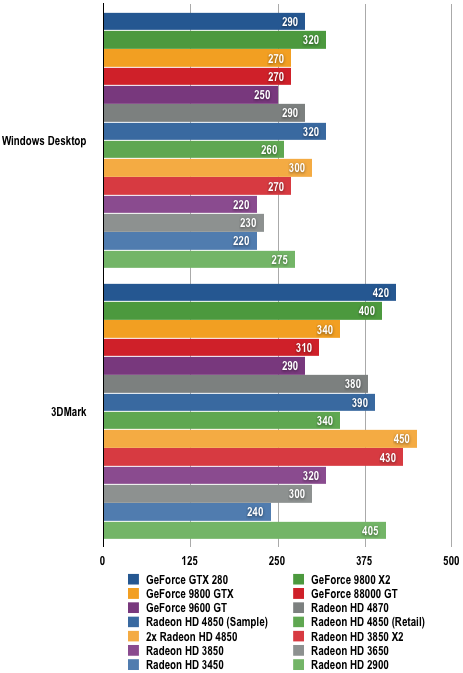 Power in Watts (W)
How about a GeForce 8800 GT or GTX in a straight fight with HD 4850? Glad you asked. We'd give the HD 4850 the nod on this one too - despite its toasty hotness. It has to be said, though, that there's not a great deal to choose in either case. Once again, that's because Nvidia has slashed the price of its 'G92' products by a painful amount. In our opinion, the price needs to come down even further, to £99, to make GeForce 8800 GT attractive. That doesn't seem very likely.
Verdict
AMD's Radeon HD 4850 and 4870 are stunningly successful. Nvidia owns the highest of the high ground with GeForce GTX 280 but down on Planet Earth where people spend real money on real graphics cards it's AMD all the way.
Sponsored: Minds Mastering Machines - Call for papers now open

AMD Radeon HD 4850 and 4870
How could we have ever loved GeForce 8800 GTS and GT? They seemed like a good idea at the time but now it's Radeon HD 4850 all the way.

AMD Radeon HD 4850 and 4870
Like a Millwall defender AMD's Radeon HD 4870 has chopped the legs out from Nvidia's product range. 'G92' is toast - official.