AMD Radeon HD 4850 and 4870
Snatching the price:performance crown from Nvidia?
During our testing, both of the AMD cards were commendably quiet, but the copper heatsink on the HD 4850 got very hot to the touch. The Catalyst drivers report a temperature of 80° Celsius. This won't be a problem once the graphics card is sealed inside your PC but one edge of the heatsink runs along the top of the card in the perfect position to catch the impatient reviewer by surprise as he swaps graphics cards between tests.
It's a bit like having a plate of really hot sausages fresh out of the oven. Common sense says you should give them a few minutes to cool but greed wins the day, and we now have the burns to prove the matter.
Moral: if you're working with an HD 4850, give it enough time to cool down properly.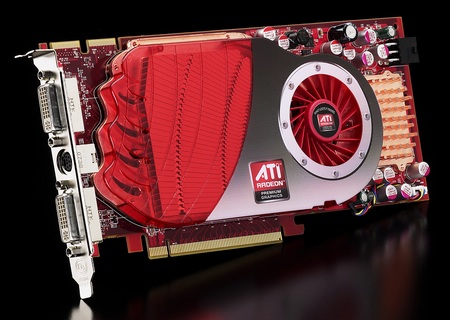 Radeon HD 4850: mind your fingers
The other major difference between the AMD and Nvidia cards is price. The GeForce GTX 280 is on its own somewhere in the stratosphere at £350, and GeForce GTX 260 is a good bit cheaper at £215-250. Compared to them, the new AMD cards are an absolute snip. The Radeon HD 4850 costs about £140 - which makes it comparable with GeForce 8800 GT and GTS - and the HD 4870 is, at £175, only slightly more expensive, which makes it comparable with 9800 GTX.
We tested a Gigabyte HD 4870 and a Sapphire HD 4850 on the same Intel Skulltrail system that we used for our Zotac GTX 280 review and also added an Asus HD 3850 X2, Asus HD 3850, Asus HD 3650, Sapphire HD 3450 PowerColor HD 2900 and Sapphire X1950 GT into the mix, just for fun.
In fact, we had two HD 4850s, one from Sapphire and one pre-production from AMD so we naturally ran them in CrossFire, but as you'll see from our figures there was something a bit strange about the pre-production card. Performance was very good, but the power consumption was 50W higher than the retail Sapphire. You can take the Sapphire figures as gospel but the CrossFire figures are raw and need some adjustment. We estimate that two HD 4850s in CrossFire draw a similar amount of power as a single HD 4870 when the system is under load.
Sponsored: Minds Mastering Machines - Call for papers now open