AMD Radeon HD 4850 and 4870
Snatching the price:performance crown from Nvidia?
Compare that to the battleship engineering that Nvidia employed in its 'GT200' chip, which is used in GeForce GTX 260 and 280. This is a monster of a chip that has 1.4bn transistors on a core that has an area of 576 square millimetres - more than twice the size of RV770. It runs at colossal clock speeds with a core speed around the 600MHz mark, unified shaders at 1300MHz and GDDR 3 memory with an effective speed that's faster than 2.2GHz.
The result is huge performance and a huge power requirement as the GTX 260 draws 182W while the GTX 280 tips the scale at 236W. You'll need two six-pin PCI Express (PCIe) power connectors for the GTX 260 and one six-pin and one eight-pin for the GTX 280.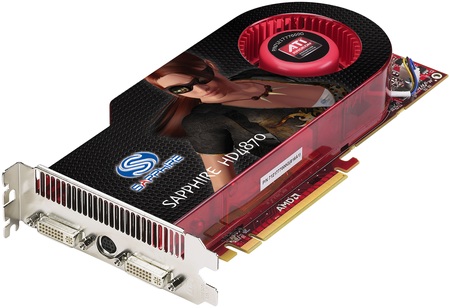 Radeon HD 4870: more modest power requirements than its rivals
By contrast, the new AMD chips are far more modest. The HD 4870 gets by on a mere 160W and the HD 4850 only needs 110W, so you need a single six-pin connector for HD 4850 and two of them for HD 4870. That puts far less strain on your power supply and the cooling inside the case of your PC.
The core clock speeds used by AMD are even more extreme than those used by Nvidia so the core of HD 4850 hums along at 625MHz while the HD 4870 buzzes away at 750MHz. The reason for the large differential is that the HD 4850 and HD 4870 cores are identical in all respects other than their speed while Nvidia starts with an über chip such as the GTX 280 and then disables sections to create lesser chips such as GTX 260.
The other difference between HD 4850 and 4870 is the speed of the memory. HD 4850 supports up to 512MB of GDDR 3 that operates through a 256-bit controller at a true speed of 1000MHz to give an effective speed of 2000MHz and a memory bandwidth of 64GB/s. Its big brother supports 512MB of spangly new GDDR 5 which runs at a true speed of 900MHz. However, GDDR 5 has twice the bandwidth of GDDR 3 so the figure is 115.2GB/s and not 57.6GB/s as you might expect from the clock speed.
The result of these architectural choices is that HD 4870 board measures 242mm in length and uses a hefty double-slot cooler that punts the weight to 1.25kg, while the HD 4850 is the same length but uses a single-slot cooler that brings the weight down to 420g. For comparison, both the GTX 260 and GTX 280 weigh 915g and measure 267mm in length.
Sponsored: Minds Mastering Machines - Call for papers now open