LG plotting autumn offensive against Eee PC?
X110 to integrate HSDPA
LG has a history of producing some pretty small laptops - most notably the skinny 12in Z1 - but it's yet to take on tinies like Asus' Eee PC and Acer's Aspire One. It soon will, though.
According to a report by German-language site Notebook Journal, LG will be coming out with the mini machine, to be dubbed the X110, in October.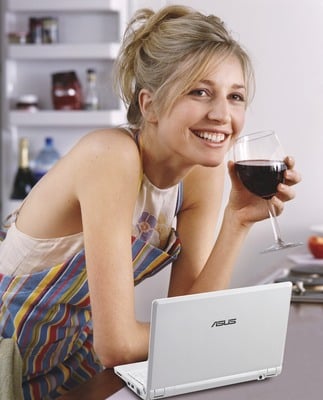 Asus' Eee PC and friend: ready to counter LG's autumn thrust?
Image requested by reader Andy Gibson
Full specs are not yet known, but it's said the laptop will sport a 9in display, Intel Atom processor, a 120GB hard drive and 2GB of memory.
There'll be one model with integrated HSDPA, one without, priced at, respectively, €499 ($788/£395) and €399 ($630/£316).
Related Reviews
MSI Wind Windows XP Edition
Asus Eee PC 901 Linux Edition
Asus Eee PC 900 Linux Edition
Getac E100 rugged UMPC
The OLPC XO laptop

COMMENTS
Developed by MSI
Apparently [cnet, digitimes] this is being developed for LG by MSI.
What's the betting it turns out to be yet another customised MSI Wind?
Looks like MSI are keen for just about anyone but themselves to sell it (Advent, Medion, now LG?), not really being an end-user manufacturer historically.
So
So will LG use those gorgeous Italian Parachute pod babes as their mascot to sell these EEEpc killer units ?
Totally missing the point
This is just another shrunk notebook (to Microsoft minimum Vista spec, I imagine, though with just an Atom it'll be slower than slow!). Yawn.
Too expensive, and I'd much rather have all solid-state rather than a hard disk with moving parts and standby power drain.
@David
The Dell E will be announced on 12 August, and will undoubtedly be shipping almost immediately thereafter. Michael Dell's cued up to make a big speech about mobility on that day.
Remember you read it here first.
By the looks of things
It might even beat the Eeepc 901 Linux version to market, as nobody seems to have even seen one of these rare beasts yet, let alone managed to buy one.
The Dell E is actually looking like the best option at the moment - proven supply lines and cheap as you like.