Blinking to replace remote controls, claims Japanese boffin
Total winker?
A Japanese researcher is planning to revolutionise the humble remote control in the blink of an eye, literally.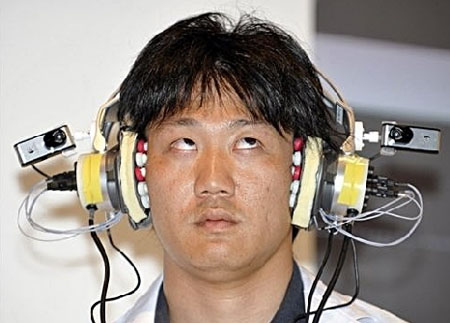 All this to skip tracks on your iPod
Image courtesy AFP
Kazuhiro Taniguchi, a researcher at the Osaka University Graduate School of Engineering Science, has invented a blink-operated switch called the Kome Kami Switch.
It's mounted onto someone's head and uses infrared sensors to monitor temple movements related to blinking, which in turn can be used to control a whole host of everyday gadgets, including TVs, air conditioners and lighting systems.
Taniguchi has already adapted the switch to control an iPod, a system that he demonstrated earlier this week at the ongoing Expo Comm Wireless show in Japan.
The wearer closes both their eyes for one second to start the iPod up and then blinks their right eye to move forwards by one track. Blinking their left eye makes it skip back one track. Just don't play any Blink 182 and get completely confused...
Taniguchi told French news agency AFP that his switch can differentiate between deliberate and autonomic blinks. "You don't have to worry about the system moving incorrectly," he said, because the unit "picks up signals when you close your eye firmly." So your blinks will have to be more akin with I Dream of Jeannie to get the music flowing.
The researcher hopes to launch a venture within two to three years that will help commercialise his switch. He even hopes the switch can be adapted to help people operate mobile phones with blinks.
Sponsored: Minds Mastering Machines - Call for papers now open