Asus P750 Windows Mobile smartphone
If a workhorse wore a suit, it would look like this
The Asus' chunky 1300mAh battery gives the P750 a reasonable run between charges. We only found ourselves reaching for the charger every other day even with fairly regular use of the Wi-Fi and – very efficient - GPS receivers. Certainly it was significantly better than the HTC Diamond, a handset that had battery inadequacies which in retrospect we perhaps dismissed a little too lightly.
Asus claims five hours of talk time and 240 of standby in a 3G signal area, which didn't prove to be too wide of the mark, the call timer recording four hours 38 minutes of usage before the battery curled its toes up. A full charge also managed to support for the GPS receiver for the best part of six hours, which impressed us.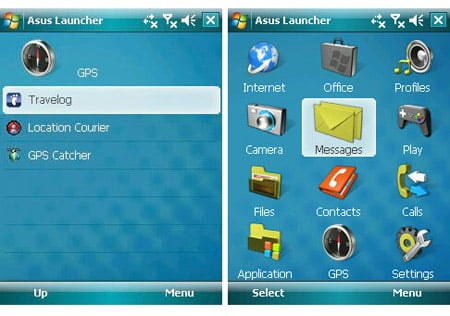 The Asus Launcher: Sony Ericsson-style icon navigation
Power and wired connectivity come courtesy of a mini-USB port and while Asus get a pat on the back for including a separate headphones jack it also gets a kick in the dangleberries for making it 2.5mm rather than 3.5mm.
Call quality was more than acceptable, as was signal reception, though since the screen lacks an "H" icon you are never sure if you getting HSDPA or just Plane Jane 3G.
Verdict
Competent is the world that springs to mind when looking at the P750. It doesn't really advance the science of smartphones but it's a robust and usable example of the breed and can be picked up for between £300 and £350. Assuming the one you buy actually works with a Micro SDHC card and assuming you're happy to cough up a few quid for CorePlayer, Mobile Shell and the like, you will end up with a not half bad handset that should last the course.
Sponsored: Minds Mastering Machines - Call for papers now open

Asus P750 Windows Mobile smartphone
If a solid workaday Windows Mobile phone is what you want then you won't go far wrong with this.
Price:
SIM-free: £349.95 RRP