Asus P750 Windows Mobile smartphone
If a workhorse wore a suit, it would look like this
When it comes to navigating around the P750, you can zip about the menus using either the jog dial on the left side of the handset – great if you hold the phone in your left hand, useless if you hold it in your right – with the navigation joystick on the keypad or with the touchscreen. The joystick is a rather fine bit of design, nicely weighted and fluid so navigation and selection seldom tripping over each other.
Thankfully an on/off/lock slider on the right-hand side prevents all these control options going berserk while the phone is in your pocket.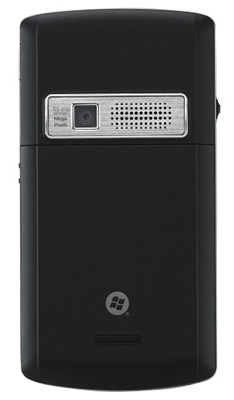 The 3.15-megapixel camera on the back is pretty ordinary
The keypad deserves a mention in dispatches. Nicely sized and with a firm action, everything falls to hand nicely. Like so much else on the P750, it just works.
The P750 hit the streets ahead of Asus' own Windows touchscreen façade, called Asus Glide, so the only divergence from the Windows Mobile 6 Professional norm is the Asus Launcher, which allows direct access to a 4 x 3 array of Sony Ericsson-style icons and a dinky little status bar that lets you see the screen brightness, battery life, memory and storage status, and the CPU and USB settings.
As with all Windows Mobile touchscreen devices, the installation of Spb's Mobile Shell results in a massive improvement both in how the handset looks and works. When running the Spb software the right and left soft-menu keys took on the function of flipping from one screen to the next. Which was nice.
Sponsored: Minds Mastering Machines - Call for papers now open