Panasonic punts thee-sensor primary colour capturing camcorder
Not 1MOS, not 2MOS but 3MOS
Panasonic has launched two new camcorders that it claims are the world's first HD models to incorporate a specialist sensor for exceptionally high light sensitivity.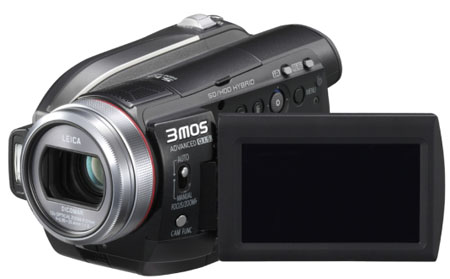 Panasonic's HS100: has a 60GB hard drive
The HDC-SD100 and HDC-HS100 camcorders feature a 1920 x 1080 video capture resolution and Panasonic's own 3MOS sensor, which splits light passing through the lens into each of the three primary colours. These signals are then passed on to three dedicated colour circuits.
Panasonic claims that the MOS sensor's light-receiving area is double that of sensors in its older camcorders, such as the HDC-SD9. The result is that the 3MOS system helps capture "more vibrant, true-to-life colours, in greater detail with richer gradation", enabling both models to shoot video in lighting levels as low as two lux - bright moonlight in the tropics, for example, or twilight elsewhere.
The manufacturer's also put video capture back into the hands of the camera operator by including a manual ring around the lens on both models, allowing users to adjust the zoom, focus, iris, shutter speed and white balance with the touch of a button finger.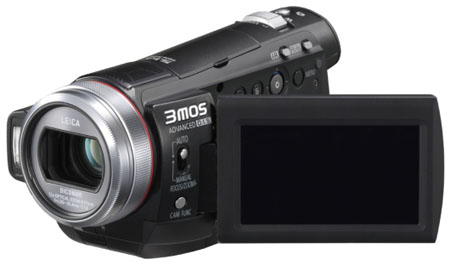 SD100: solid-state memory
Compact camera-style image enhancement modes are also featured on both camcorders, such as anti-shake and face detection. Scene Selector allows users to quickly set the camcorder into pre-defined shooting conditions.
The HDC-SD100 records content onto SD/SDHC memory cards, while the hybrid HDC-HS100 supports both SD/SDHC cards and has an integrated 60GB hard drive. Content can be watched back on either model on a 2.7in flip-out LCD screens.
Panasonic's set to release both shooters in September, with the HDC-SD100 priced at $1100 (£550/€690) and the HDC-SD100 at $1300 (£650/€820). UK release dates and prices haven't been given yet.
Sponsored: Minds Mastering Machines - Call for papers now open