Roberts solarDAB radio
Here comes the sun, little darlin'
Does the solarDAB work? Yes it does. There's a little sliding scale that appears on the display when the product is exposed to usable sunlight, with the number of bars displayed representing the amount of power being delivered by the unit's solar panel. Roberts says if less than half the ten bars are showing, then there's enough power being provided to assist the unit's rechargeable batteries, and the radio will operate for longer than it would if just relying on the rechargeable batteries alone.
If more than half the bars are illuminated, then the photovoltaic cells can power the radio on its own and have some juice left over to recharge the batteries too. If all the little LED bars are lit, well, you're laughing. The radio can operate without the battery pack at all, but this doesn't produce very satisfactory results.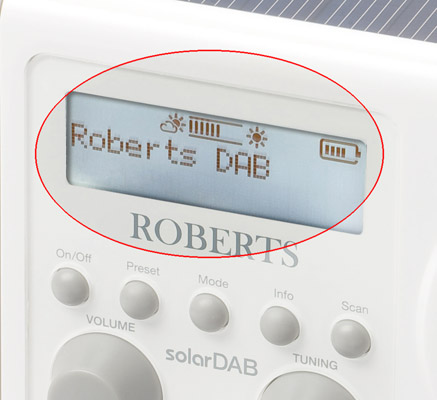 Is there enough sunlight to power the radio?
We found that the panel was pretty sensitive. We placed it behind a heavily frosted window on a moderately sunny day and there was still around half the bars showing. Indeed, a nice sunny windowsill is the radio's preferred spot. But it is outside that it really comes into its own.
Even moderate sunlight means the radio can keep going for really long periods of time, even at a decent volume. On its own, without assistance from the panel, the radio can manage around a quoted and basically accurate 27 hours of playback. If the weather is really good, it can keep going as long as the sun shines, in theory at least.
Verdict
One of the Register Hardware team took the radio to a recent festival and reported that the handy device provided enough chill-out sounds for a full three days and still had power on his return. If you listen to the radio to any great extent outside then this is a really useful little addition to any holiday, camping trip or day on the river bank.
Sponsored: Minds Mastering Machines - Call for papers now open

Roberts solarDAB radio
Just in time for the great British 'summer', Roberts has introduced the world's first solar-powered portable digital radio.