Roberts solarDAB radio
Here comes the sun, little darlin'
Moving on, the solarDAB's display is clear enough and of a decent size, although we felt the scrolling information was a little jittery, probably a consequence of the radio being set up to save power wherever possible.
A useful feature - and not often seen on a product at this price point - is the appearance on the display during station searches not only of the current station but also the next one in sequence. The solarDAB can store your ten favourite stations - they are locked in by pressing the preset button, tuning to the station required and then pushing the tuning/select button.
This doesn't sound like a particularly awkward operation, but it does feel a little like that. It would've been easier to just press and hold the preset button when the radio is tuned to the desired station as is the norm with most radios.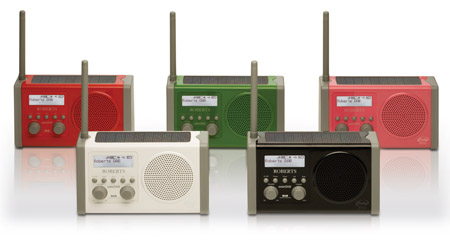 The solarDAB is available in five different flavours
There is also the welcome addition of line-in socket for MP3 gadget playback and a headphone port.
In general, the radio's wedge design provides a good, solid platform, so the unit can cope with uneven surfaces when used outdoors. The rubber sides lock the radio into the palm when you're searching for stations or making other adjustments.
There's no FM tuner and this has to count against the product by limiting where it can be used. However, price points are at play here and the addition of FM may have been sacrificed in concentrating on the unit's power profile.
Roberts says that the launch of the solarDAB comes just ahead of new EU legislation that will require the UK to start recycling up to 25 per cent of all batteries from 26 September 2008. Currently, the UK recycles a pretty pathetic two per cent of the 30,000 tonnes of portable batteries disposed of each year, the remainder largely ending up in landfill.
The solarDAB does use batteries - handy for when the sun don't shine - but they're rechargeable and kept fed by the radio's top-mounted solar panel.